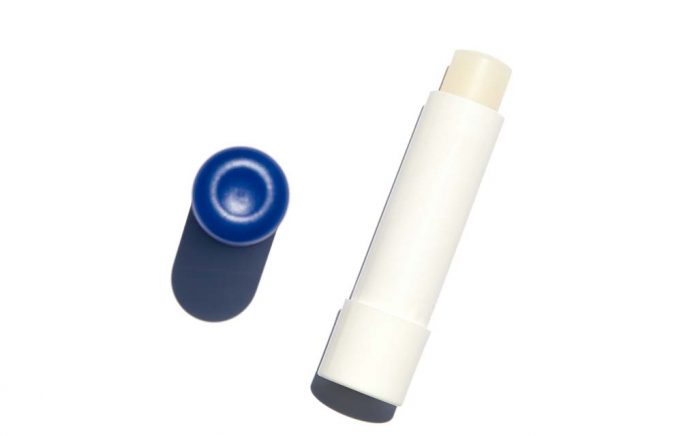 Dry lips are common at any time of the year. If it's not the dry, blustery winter, it's the hot summer sun wreaking havoc on our lips. The Chapstick brand has become synonymous with lip balm. In fact, you see it in the checkout lane at the grocery store, drug store, and even the gas station. Due to my exposé on dangerous ingredients found in kids cosmetic products, I wanted to take a closer look at what's really in this widely used product.
Chapstick Ingredients
Chapstick is loaded with questionable ingredients. Here's what's in Chapstick Lip Balm in Classic Cherry flavor:
Ingredients: Arachidyl propionate, camphor, carnauba wax, cetyl alcohol, fragrance, isopropyl lanolate, isopropyl myristate, lanolin, light mineral oil, menthol, methylparaben, octyldodecanol, paraffin, phenyl trimethicone, Propylparaben, red 6 lake, saccharin, white wax.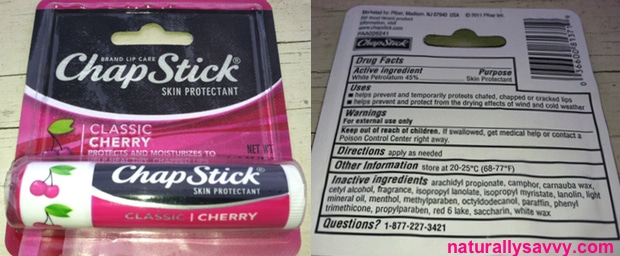 Questionable Ingredients in Chapstick:
Camphor
Camphor is a waxy substance derived from the camphor tree. It's classified by the Environmental Working Group as potentially toxic. According to Medscape, "Ingestion of even small doses of camphor can cause fatal poisoning in small children. It produces gastrointestinal and central nervous system irritation after toxic ingestion. Nausea and vomiting followed by agitation and seizures are common." Why would Pfizer include a potentially dangerous ingredient in a product that kids use all the time?
Fragrance
When "fragrance" is listed in the ingredients, you can assume it's synthetic and not a blend of natural flower extracts. The National Academy of Sciences (NAS) reports that "95% of the ingredients used to create fragrances today are synthetic compounds derived from petroleum, including benzene derivatives, aldehydes, and many other known toxins and sensitizers." According to the Environmental Working Group (EWG), there are potentially hundreds of chemicals in a single product's secret fragrance mixture. If you are allergic to Chapstick, it may be due to the fragrant ingredients.
Isopropyl Myristate
Though it's used to moisturize, isopropyl myristate actually dries the skin and hair, causing cracks and fissures. It also encourages bacterial growth. It's classified as a human skin irritant, according to the National Institutes of Health.
Light Mineral Oil
Mineral oil is a semi-solid mixture of hydrocarbons sourced from petroleum. According to EWG, it may be an organ and immune system toxicant as well as a carcinogen. Light mineral oil can also be potentially contaminated with cancer-causing chemical polycyclic aromatic hydrocarbons (PAHs). Additionally, the environmental impact of using products sourced from crude oil, a non-renewable resource, is also of concern.
Methylparaben and Propylparaben
These are both parabens, preservatives used to discourage the growth of microbes in personal care products. They're known endocrine disruptors, which means they disrupt hormone function and are linked to an increased risk of breast cancer. Endocrine disruptors mimic estrogen in the body by binding to estrogen receptors on cells and wreaking havoc on the body's organ systems, especially the reproductive system.
Read more about the 12 worst endocrine disruptors
Paraffin
Paraffin is a petrochemical (a byproduct of petroleum) and a by-product of kerosene. According to David Pollack, founder of Just Ask David, it traps toxins and excess oil on the body so that your skin can't breathe properly. It has been shown to have trace amounts of 1,4 Dioxane, a known carcinogen. I'm not sure if the white was listed in the ingredients also refers to paraffin, but since they don't specify, I will assume it is.
Saccharin
Saccharin, an artificial sweetener, is used in this case as a flavoring agent (it makes the lip balm taste sweet). Although it is no longer considered to be a human carcinogen (early studies in rats showed a link to urinary bladder cancer), I prefer to avoid all man-made chemically derived artificial sweeteners.
There are many safer lip balm alternatives available. One I really like is EcoLips. It's made with natural and organic ingredients, it's vegan (it's made with a plant wax called Candelilla wax), and it's never tested on animals. I also like organic lip balms from Badger's and Dr. Bronner's.
READ MORE: Are Your Cosmetics Harming You? 4 Ways To Protect Yourself
People searching for information on whether Chapstick is bad for you may find this list and realize that they no longer want to use the product. Luckily, there are a few natural alternatives on the market. Contact us for more information today.
We are always looking for the latest research on health. Subscribe to be on the cutting edge of all things healthy living: