Another year, another chance to try healthy diet plans to lose weight fast, improve your health, have more energy, encourage your kids to make better food choices, or whatever reason you choose. In fact, there are so many options, how do you know which one is a good diet? How do you choose?
Ultimately, you should select an easy diet–one that you can live with for a long time. You are most likely to abandon eating programs that come with too many rules and restrictions. You should evaluate diet plans for weight loss to be sure they include sufficient nutrients and are flexible enough for you to stick with it.
A good diet should fit your lifestyle, be nutritious and safe, provide a wide selection of balanced food choices, be affordable (there are many free diet plans), and make you feel good about yourself.
Fortunately, every year there are groups of experts, healthcare individuals, and diet pundits who come out with a list of the top healthy diet plans for the year. One of the most popular and respected is the list published by US News & World Report (USNWR).
However, we also checked out a few other lists, and so we give you some familiar faces but also a surprise or two for you to consider. In fact, let's begin with the surprises! As an added bonus, all of the recommendations are free diet plans—no membership dues or special foods to buy. Bon apetite!
5 healthy, gluten-free ingredients to improve your diet 
Volumetrics
This good diet plan didn't make the top 5 on the USNWR, but it did win the No. 2 in Best Weight Loss Diets and in Best Diabetes Diets, and No. 6 in Best Diets Overall. The volume-based approach means you feel like you can eat a lot—and here we are talking about lots of vegetables and fruits—and not have to worry about restricting your intake. The focus of Volumetrics is on produce as well as broth-based soups, non-fat milk, grains, legumes, low-fat mixed dishes such as spaghetti and chili, and low-fat meat. Items to minimize include cheese, meat, salad dressings, bread, crackers, cake, ice cream, cookies, nuts, butter, and oils. Check out these volumetrics diet recipes.
Nordic diet
This diet approach is a newcomer to USNWR because it was garnering considerable attention during 2018. In fact, the experts ranked it No. 3 in Best Plant-Based Diet for 2019. The Nordic diet has 10 main concepts: eat lots of fruits and vegetables daily; eat more whole grains; eat more seafood; eat less meat but when you do eat meat, select high-quality cuts; eat organic produce whenever possible; avoid food additives; eat more home-cooked meals; seek foods from wild landscapes; and produce less waste. This diet has a decidedly Scandinavian flare, with the emphasis on seafood, foraging from the wild (although your "wild" may have to be the farmers market!), and reducing food waste, but it can be applied universally. Why not give these Nordic diet recipes  a try?
Mediterranean diet
This popular diet plan was ranked No. 1 Best Diet Overall by USWR for the second year in a row. It also won in the Easiest Diets to Follow, Best Diets for Diabetes, Best Diets for Heart Health, and Best Diets for Healthy Eating. The reasons for all of these accolades are considerable.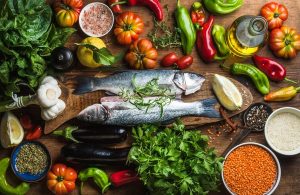 Numerous studies have indicated that the Mediterranean diet plan can improve longevity, help prevent chronic diseases, and do what each of its winning award titles claim. The diet emphasizes fruits and vegetables, whole grains, lean protein, beans and legumes, and enjoying meals with family and friends. If the Mediterranean diet has not topped your list before now, it may be time to give it a go!
Read about fad weight loss diets—how to avoid them
DASH diet
Coming in at number 2 for Best Overall Diets, Best Diets for Healthy Eating, Best Diets for Diabetes, and number 3 for Best Diets for Healthy Heart, the DASH diet has always been a tough and worthy challenger for the Mediterranean diet. Even though DASH was designed to help people reduce high blood pressure, it also has been shown to help with weight loss, reduce cholesterol, and help control diabetes. Try these DASH diet recipes.
Flexitarian diet

True to its name, this diet plan offers lots of flexibility, which is one of its attractions. Ranked number 3, the flexitarian diet consists primarily of plant-based foods and non-meat protein sources, such as peas, beans, eggs, and lentils, but with occasional meat, poultry, and fish dishes. It is sometimes referred to as the casual vegetarian diet.
Is 2019 the year you will try a new diet plan? Have you tried other healthy diet plans in the past and are ready for a new one? How successful have you been with your eating programs? Let us know! Share your favorite easy diet recipes with us!
For more information on living healthy, be sure to subscribe to our newsletter:
Read this next
Sources
London J. The best (and worst) diets of 2019—according to a registered dietician. Good Housekeeping 2018 Dec 10
MacMillan A. The best diets of 2019 and why the Keto diet ranked so low. Health 2019 Jan 2
US News reveals best diet rankings for 2019. US News & World Report 2019 Jan 2.