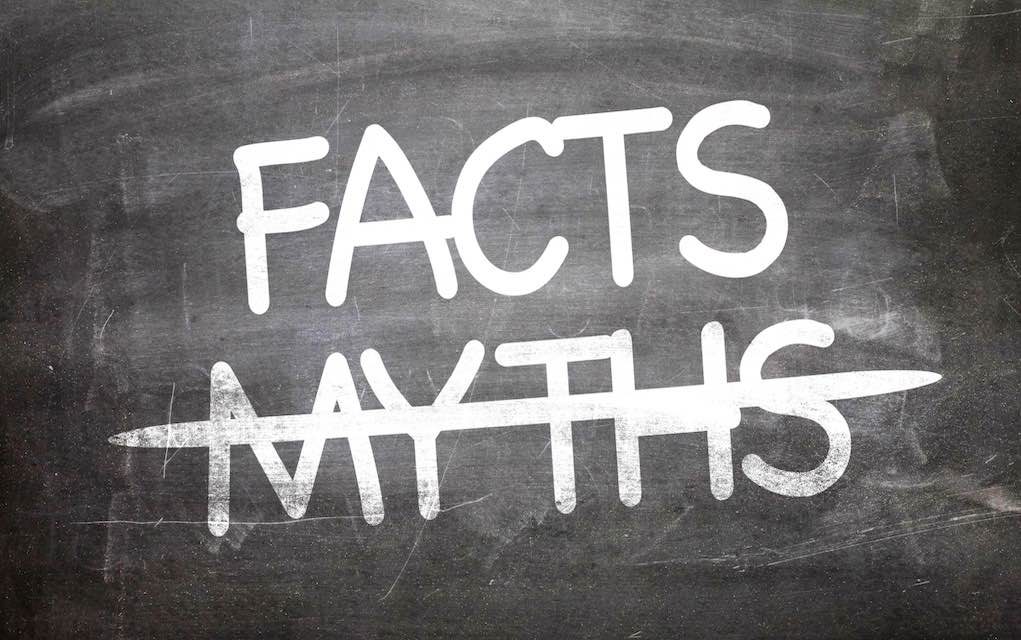 The buzz about cannabidiol (CBD) is fast and furious and the legal definitions are changing at the national, state, and local levels on a regular basis. In the flurry of excitement and controversy, sometimes it's challenging to separate CBD fact from fiction. So, make yourself a cup of tea, find a comfortable chair, and spend the next few minutes reading about some of the myths and facts about CBD.
On December 20, 2018, the 2018 Farm Bill was passed by the federal government, which allows farmers to grow hemp that can be used for CBD hemp oil as long as it contains less than 0.3% THC (delta-9-tetrahydrocannabinol, the intoxicating compound found in cannabis).
Read about demystifying CBD oil (cannabinoid): 7 important facts
MYTH: CBD oil is legal everywhere in the US. This is fiction, BUT here's the deal: CBD oil that is derived from hemp contains less than 0.3% THC (which does not impart psychoactive ingredients) is legal to buy and consume everywhere in the United States.
However, CBD oil that is derived from marijuana is still illegal in several states. For a state-by-state look at the legality of CBD oil, go here.
FACT: CBD from hemp does not get you high. Despite the wealth of information that debunks this myth, there are still some individuals who believe that CBD has psychoactive effects. While full-spectrum CBD hemp oil contains trace amounts of THC (less than 0.3%), there isn't nearly enough to get you high. Ever. In fact, the opposite is true. CBD can counteract the intoxicating actions of THC. Studies using very high doses of pure CBD (e.g., 600 mg) have not caused sedation or intoxication.
FACT: CBD provides significant health benefits. CBD works within your body's endocannabinoid system (ECS), which helps regulate a variety of processes like eating, sleeping, relaxation, and recovery which can be beneficial to overall health.
Read about what is CBD hemp oil and why does it work
MYTH: CBD hemp oil causes a hangover. Use of CBD hemp oil will not leave you clinging to the porcelain god, scrambling for headache meds or bemoaning your activities of the previous evening. In fact, use of CBD hemp oil often results in relief from whatever symptoms you were hoping to remedy that aren't caused by a hangover.
FACT: You don't need a prescription for CBD hemp oil. CBD hemp oil can be purchased legally without obtaining a prescription. You can order CBD oil online or from local outlets.
MYTH: Cannabidiol is effective because it activates cannabinoid receptors. The therapeutic effects of THC are associated with its ability to work like the body's endocannabinoids, which means the THC binds to the cannabinoid receptors (CB1 and CB2) and triggers certain biological activities that provide relief. However, CBD oil does not work in the same way.
In fact, CBD does not directly stimulate these receptors at all. Instead, CBD actually reduces the activity of these receptors while also indirectly increasing cannabinoid messaging by inhibiting the breakdown and movement of anandamide (also known as the "bliss molecule"), a prominent endocannabinoid. If this sounds a bit confusing, welcome to the helter-skelter world of CBD. According to Dr. Dustin Sulak, "If you take CBD, is it going to inhibit or stimulate your endocannabinoid system? The answer is probably both, and it likely depends on your needs and the amount of CBD you take."
FACT: Unlike using marijuana, use of CBD oil has been shown to be safe for children. In fact, research has demonstrated the oil's ability to be especially helpful for children who live with epilepsy. A recent study from Tel Aviv University that included 46 patients reported that use of CBD oil in "patients with refractory epilepsy may result in a significant reduction in seizure frequency." Note: Adverse reactions were reported in 46% of patients and were the main reason for treatment cessation.
[Editor's Note: As with any new supplement, we recommend speaking to a qualified health care professional before starting to take it. We strongly encourage you to speak to a specialist when considering giving CBD to your children or adolescents.]

Sources
Borgwardt SJ et al. Neural basis of delta-9-tetrahydrocannabinol and cannabidiol: effects during response inhibition.

Biological Psychiatry

2008 Dec 1; 64(11): 966-73
Gill LL. Congress approves a bill to make CBD legal at federal level.

Consumer Reports

2018 Dec 12
Hausman-Kedem M et al. Efficacy of CBD-enriched medical cannabis for treatment of refractory epilepsy in children and adolescents—An observational, longitudinal study.

Brain Development

2018 Aug; 40(7): 544-51
Hemp Industry Daily staff. DEA moves some CBD medicines off Schedule 1, a limited expansion of cannabis access.

Marijuana Business Daily

. 2018 Sep 27
Serino D. $867 billion dollar Farm Bill lets farmers grow hemp which is used for CBD oil.

WKYC 3

2018 Dec 13
Sulak D. 6 common myths and controversies about high-CBD cannabis.

Leafly

2018 Mar 12