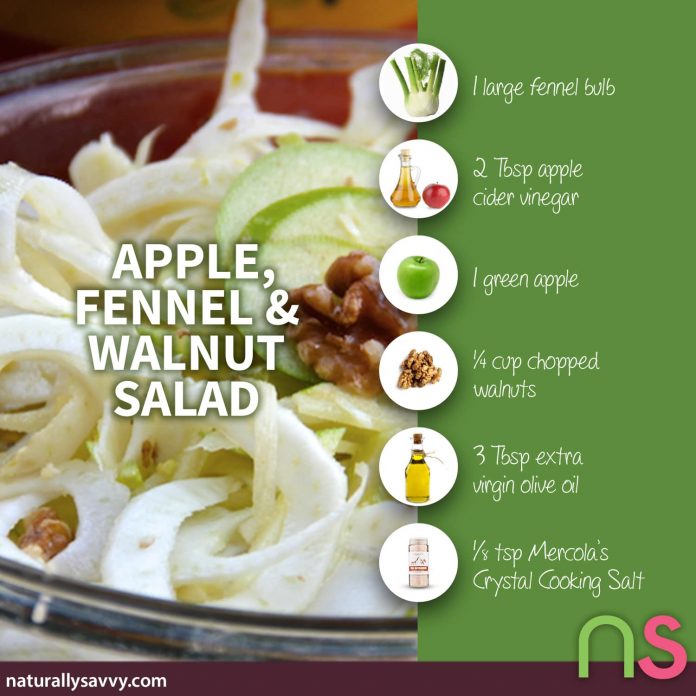 Thinly sliced fresh raw fennel, grated green apple, and walnuts served with an apple cider vinaigrette: what a refreshing crunchy and delicious combination… and so simple too! This recipe introduces an uncommon player to the mix–who thinks about neglected fennel?–that will please your family and guests as well. Try serving it at your next party or family dinner!
Salad Ingredients:
1 large fennel bulb, rinsed and sliced thinly*
1 green apple, skin on, rinsed and grated coarsely
¼ cup chopped walnuts
Vinaigrette:
¼ tsp dijon mustard
2 Tbsp apple cider vinegar
1 Tbsp organic apple cider
3 Tbsp extra virgin olive oil
1/8 tsp salt
Directions:
Place all the vinaigrette ingredients in a medium salad bowl and whisk briskly. Place the thinly sliced fennel, grated apple and chopped walnuts on top of the vinaigrette and toss to coat well. Enjoy!
*I like to use a mandoline but you can also use a food processor equipped with a top slicing blade to slice finely.
READ MORE: 7 Natural Apple Cider Vinegar Remedies that Actually Work
This recipe originally appeared on Cuisinicity.com.