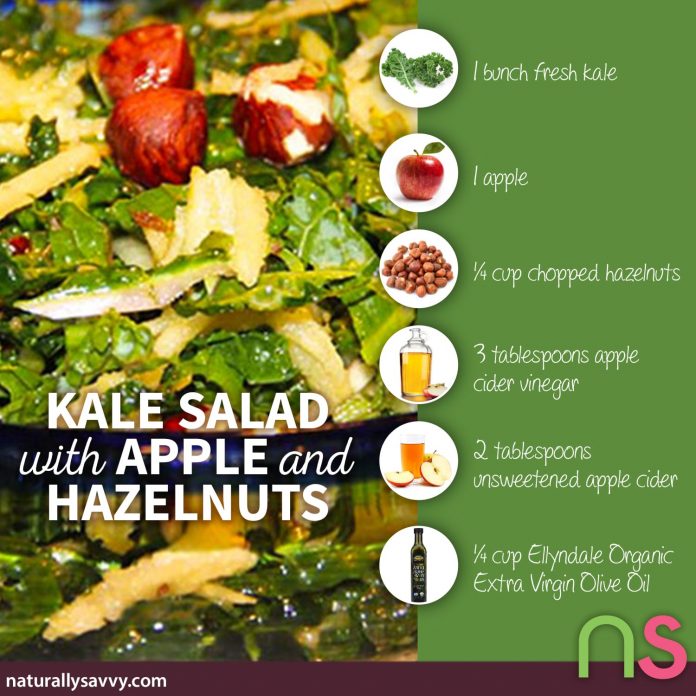 I never used to like raw kale (what is wrong with me?!!)…that is, until I discovered making it this way! I realized that chopping it very fine or shredding it makes all the difference for me.
The combination of the sweet and sour apple cider vinaigrette, freshly grated apple and chopped hazelnuts with the finely chopped kale is absolutely superb! I now use this salad as a foundation: by that, I mean that I like to "build on it" and make it more of a centerpiece all-in-one meal (how wonderful is that?) so I can add some grains and legumes or beans to it for protein-French lentils or quinoa or farro blend beautifully in this salad-and of course more thinly sliced or grated veggies such as carrots, fennel, radishes… anything goes!
Serves 4
Ingredients
1 bunch fresh kale, rinsed & finely chopped or shredded
1 apple, rinsed, skin on, coarsely grated
1/4 cup chopped hazelnuts
Dressing:
3 tablespoons apple cider vinegar
2 tablespoons 100% natural, unsweetened apple cider
1/4 cup extra virgin olive oil
1/8 teaspoon salt
Read more: 7 New Ways to Eat Kale
Directions
Mix all the dressing ingredients in a small bowl. Pour dressing over the remaining ingredients and gently stir.
This recipe originally appeared on Cuisinicity.com.
More salad recipes:
Spinach and Bitter Green Salad Recipe with Fresh Raspberry-Aloe Vinaigrette
Pomegranate and Beet Salad with Grapes and Blue Cheese
Sensational Strawberry Spinach Salad Recipe
DISCLAIMER: This article contains affiliate links, which means that if you click on one of the product links, Naturally Savvy will receive a small commission so we can keep pumping out amazing articles like this one. Thank you so much for your support!