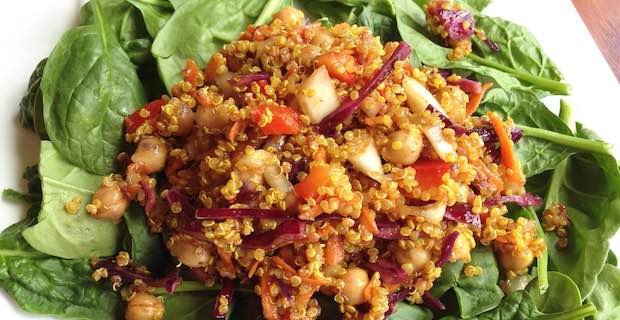 Cool down and spice things up with this delectable Moroccan inspired quinoa salad recipe.
Fresh salads are probably my favorite thing to eat. They make me feel so energized and nourished without feeling heavy and weighed down. You know what I'm talking about. That "food coma" induced by binging on fried, greasy, and (at the time) great-tasting foods.
Full of vibrant color, fresh produce and great protein, salads make the perfect light lunch or dinner and always lead to smiles. Fresh ingredients are full of health-supporting vitamins and minerals, and contain living enzymes which help assist our digestion (which is much more than you can say about those above-mentioned grease pits). Let's start a salad revolution, the possibilities are endless!
Read more about phytonutrients and colorful foods
Salad Ingredients:
1 cup Living Now Foods Organic Quinoa
1 cup organic vegetable or chicken stock
1 cup water
1 tsp onion powder
1 tsp paprika
½ tsp turmeric
¼ tsp oregano
¼ tsp basil
1 bay leaf
1 red bell pepper, diced
½ cup red cabbage, thinly sliced
2 medium carrots, grated
¼ medium Spanish onion, diced
1 (540mL) can chickpeas, drained and rinsed
fresh spinach (optional for serving)
Dressing Ingredients:
½ cup balsamic vinegar
¼ cup apple cider vinegar
½ cup Ellyndale Organic Extra Virgin Olive Oil
1 tbsp Dijon mustard
salt and pepper to taste
Read more about the health benefits of apple cider vinegar
Directions:
In a stock pot combine quinoa, chicken stock, water, and spices. Bring to a boil then reduce heat and simmer for 15 minutes with the lid on, stirring occasionally. Once water is almost all absorbed remove from heat and let stand for 5 minutes with the lid on.
In the meantime, chop the veggies and rinse the chickpeas. Add veggies and chickpeas to the cooked quinoa and toss to combine. For the dressing combine all ingredients and give it a good whisk. Pour half the dressing over the salad and toss to combine. Save the remaining dressing for serving. As you let the salad sit the dressing will be absorbed into the quinoa. Store in an air tight container in the fridge. Serve the quinoa over a bed of fresh spinach to make the salad a little heartier and to add another level of freshness.
Image: Deanna Harris