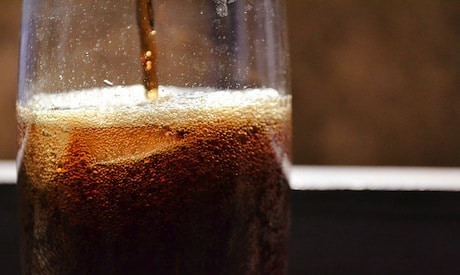 If there's one deliciously refreshing word in the English language, it's definitely effervescent. We love bubbles on our tongue and the way they tickle our noses as we bring the can of soda close in for a sip. What else makes you want to say "aaaah" with such conviction?
Sodas today are a long way from their medicinal roots. While brands like Coca-Cola still boast "original formula" recipes, the drinks have been modified to contain high fructose corn syrup-and more of it than ever before. They use artificial flavors and colors. And let's not forget those soda cans are also lined with BPA (bisphenol-A)-the toxic plastic substance linked to hormone disruption, fertility issues, and obesity among other serious health concerns.
However, does that mean we have to eschew anything that goes fizz? Certainly not.
While sparkling mineral waters can tickle the tongue just right, sometimes you still want a bit more. And you can satisfy your soda craving with an all-natural recipe made at home.
Make your own natural soda
The secret is mixing in soda water with your soda syrup. Your recipe can be as simple as a fruit juice mixed with your water. Or you can grate and boil down some fresh ginger root, a wee bit of lemon juice and some sugar before mixing it in with your soda water for a delicious homemade ginger brew. The general rule is about 1 cup soda or seltzer water to ¼ cup of your soda "syrup."
Can't quite give up that cola fix? Check out this recipe for a homemade cola.
(Adapted from the New York Times)
Ingredients
Grated zest of 2 medium oranges
Grated zest of 1 large lime
Grated zest of 1 large lemon
1/8 teaspoon ground cinnamon
1/8 teaspoon nutmeg, preferably freshly grated
1 section of a star anise pod, crushed
2 teaspoons minced ginger
1 one-and-a-half-inch piece vanilla bean, split
1/4 teaspoon citric acid
2 cups plus 2 tablespoons coconut or organic cane sugar
1 tablespoon (packed) organic light brown sugar
3/4 teaspoon natural caramel color powder, optional
Directions
In a heavy pot over medium heat, bring 2 cups of water to a simmer with the zests, cinnamon, nutmeg, star anise, ginger, vanilla and citric acid. Reduce the heat to low, cover and simmer gently for 20 minutes.
In a food processor, whirl the sugars together for one minute (this will help them dissolve), then transfer to a large bowl. If using caramel color, sprinkle it over the sugar.
Line a sieve or colander with a double thickness of cheesecloth and place over the bowl. Pour the contents of the pot through the sieve. Carefully gather up the corners of the cheesecloth and twist the top to close. Use a spoon to press the bundle against the sieve, squeezing out all the flavorful liquid.
Stir the syrup and let cool, stirring occasionally until the sugar dissolves about 15 minutes. Transfer to containers and keep refrigerated. To make your soda, pour 1/4 cup syrup over ice and add 1 cup seltzer. Stir.
Makes about 3 cups syrup.
Keep in touch with Jill on Twitter @jillettinger
Photo Credit: Soumyadeep Paul