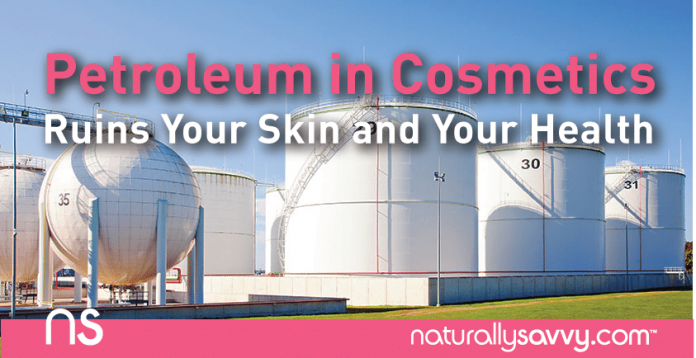 What do Styrofoam, antifreeze, and facial moisturizer have in common? They are made with petroleum, the fossil fuel that makes your car run and is found in paint and thousands of food products and medications that contain artificial colors.
If the juxtaposition of antifreeze and body lotion or your child's breakfast cereal is a scary thought, it should be. Petroleum-in its many forms and with its many names-is in tens of thousands of cosmetics, personal care products, and foods you and your family are exposed to every day. That is, unless you are aware of how to identify these petroleum villains and find healthful alternatives.
Petroleum in Cosmetics and Health Care Products
You can expect to find petroleum and petroleum byproducts in everything from shampoos and conditioners to anti-aging creams, body lotions, mascaras, perfumes, lipsticks, lip balms, foundations, hair relaxers, conditioners, eye shadows, and nail polishes. Often petroleum is listed on the label under cleverly disguised names, such as mineral oil or words ending in "eth," which indicates it required a petrochemical to produce it. Here's a list of cosmetic and health product petrochemicals to look for on ingredient labels:
Benzene
Butanol and words with "butyl," such as butylene glycol and butyl alcohol
Diethanolamine
Ethanolamine
Ethanol and words with "ethyl," such as ethyl alcohol, ethylene oxide, ethylene dichloride, ethylene-diamine-tetracetatic acid (EDTA), ethylene glycol
Fragrance or parfum, as nearly all chemical used in fragrances are derived from petroleum
Methanol and words with "methyl," such as methyl alcohol, methylparaben, and methylcellulose
Parabens (e.g., propylparaben, methylparaben, butylparaben, benzylparaben)
Paraffin wax
Phenoxyethanol
Propyl-containing substances such as isopropyl alcohol, propylene glycol, cocamidopropyl betaine
Toluene
Words ending in "eth" (e.g., ceteareth, laureth, myreth, oleth)
Read more about the dangers of parabens
Some of these petroleum products, such as benzene and ethylene oxide, are known or potential cancer-causing agents, while others are hormone disruptors (e.g., parabens). Mineral oil, which is a popular and common ingredient in baby oil and a wide range of skin and hair products, may contain contaminants and can clog your pores, increasing your risk of acne and blackheads and inhibiting your skin from breathing.
Even worse, when your skin is exposed to petroleum-derived products, your skin absorbs the chemicals (some of which are potentially carcinogenic), which then get into your bloodstream. This is dangerous for everyone, but especially children, women who are pregnant, and the developing fetus.
The manufacturing process can contaminate these products with hazardous impurities such as polycyclic aromatic hydrocarbons (PAHs) and 1,4 dioxane, a petroleum-derived contaminant that is formed during the manufacture of body wash, shampoos, and other sudsing cosmetics. The International Agency for Research on Cancer has named 1,4 dioxane as a possible carcinogen.
Yet another danger of petroleum-derived ingredients is the risk of allergic reactions, including rash, skin irritation, and lesions. And if you think that old standby, petroleum jelly, is going to ease your skin irritation and dry skin, think again! According to New York-based dermatologist Dr. Alan Dattner, although hazardous components in petroleum jelly are supposed removed during the refining process, "there are probably plenty of petroleum jelly imitators, and one doesn't always know the extent that they're removed."
Petroleum in Your Food and Medicine
As if absorbing petroleum-related ingredients through your skin weren't scary enough, you can also ingest them in your food and medicines in the form of artificial flavorings and colors. Just look for the words "artificial flavor", "artificial colors," "Red 40," "Yellow 5," "Blue 1," "Blue 2," "Green 3," "Orange B", "Red 3," and "Yellow 6" on products such as cereals, snacks, candy, fruit beverages, dried fruit, and supplements and medications, especially those that target children.
Read more about artificial flavors
The Center for Science in the Public Interest (CSPI) petitioned the FDA in 2008 to ban the use of artificial food dyes because they had been associated with behavioral problems in kids. A CSPI report entitled Food Dyes: A Rainbow of Risks has warned that the eight artificial dyes deemed safe by the FDA probably cause cancer, behavior problems, hypersensitivity reactions, or have not been tested adequately.
Yet the petroleum-derived artificial colors and flavorings are still in our personal health products, food, supplements, and medicines. As consumers, we need to read labels carefully, choose certified organic products, and let manufacturers and the FDA know that we will not accept these hazardous ingredients in our everyday products.
Image at top via Theodore Scott
Sources: Breast Cancer Fund. Chemicals in cosmeticsCenter for Science in the Public Interest. Petition to Ban the Use of Yellow 5 and Other Food Dyes, in the Interim to Require a Warning on Foods Containing these Dyes, to Correct the Information the Food and Drug Administration Gives to Consumers On the Impact of These Dyes on the Behavior of Some Children, and to Require Neurotoxicity Testing of New Food Additives and Food Colors.Center for Science in the Public Interest. Food Dyes: A Rainbow of RisksDr. Frank Lipman. 3 key reasons to avoid mineral oilHow to identify petrochemicals in your cosmeticsHuffington Post. Oil spill in the bathroomHuffington Post. Vaseline petroleum jellyPotera C. Diet and nutrition: the artificial food dye blues. Environmental Health Perspective 2010 Oct; 118(10): A428
If you like this article, pin it!