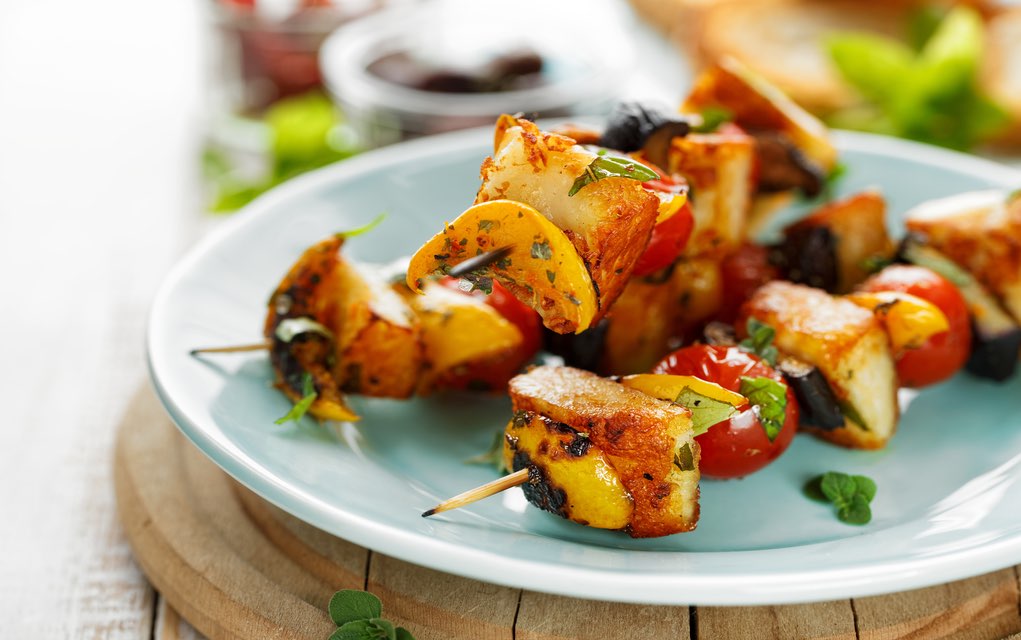 Delicious and fun vegetarian meals that are also keto-friendly can be hard to come. Not to worry though because we have you covered with these halloumi and vegetable skewers that are grilled to perfection.
For a meat free meal or a veggie treat at your next barbecue, this recipe will be a real hit this summer. Feel free to use other vegetables of choice such as, bell peppers and red onions. Serve either on their own or bulk the meal out with a side salad. These skewers will also make the perfect appetizer.
Makes: 8 
Ingredients you will need

¼         Cup                 Olive oil, light tasting
¼         Cup                 Lemon juice, freshly squeezed
1          Tbsp                Parsley, finely chopped
1          Tbsp                Basil, finely chopped
½         Lb                    Halloumi, cut into cubes
1          Lg                    Yellow summer squash, (or zucchini) thickly chopped
½         lb                     Cherry tomatoes
Instructions
Combine the oil, lemon juice, parsley and basil in a bowl and set aside. Thread the summer squash, tomatoes and halloumi alternatively on 8 skewers.
Grill the skewers over a medium to high heat turning and basting with the oil mixture as you go.
Grill for approximately 15 minutes or until vegetables are tender.
Serve with fresh spinach, arugula leaves and a squeeze of fresh lemon.
For more healthy and keto-friendly recipes, be sure to subscribe to our newsletter:


DISCLAIMER: THIS RECIPE CONTAINS AFFILIATE LINKS, WHICH MEANS THAT IF YOU CLICK ON ONE OF THE INGREDIENT LINKS, NATURALLY SAVVY WILL RECEIVE A SMALL COMMISSION SO WE CAN KEEP PUMPING OUT AMAZING RECIPES LIKE THIS ONE. THANK YOU SO MUCH FOR YOUR SUPPORT!