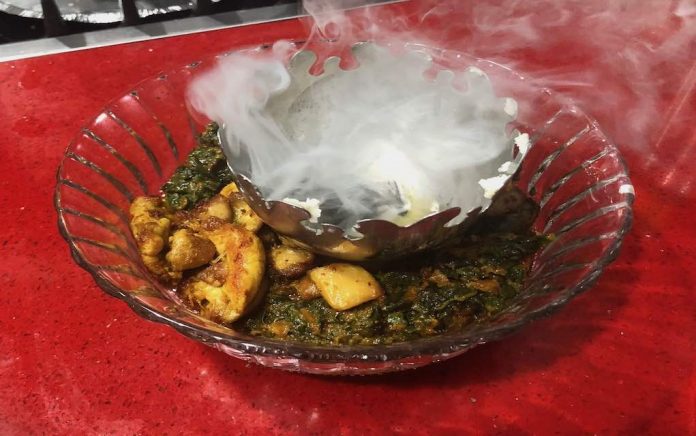 When it comes to our food we strive for a marriage of great flavors as well as healthy nutrition. This recipe is not only easy and delicious but it's filled spices that offer proven health benefits and that are anti-inflammatory.
This dish can also be made vegetarian, vegan or keto- whatever diet you choose.
Ingredients
3 Tbsp Olive oil -spinach preparation
2 Tbsp Olive oil -chicken preparation
1 tsp Olive oil
½ tsp Red chili powder
½ tsp Turmeric powder
1 tsp Cumin powder
1 tsp Coriander powder
1 tsp Curry powder (Indian Curry)
Salt to taste
1 Tbsp ginger paste (take 2 inches of ginger and water and blend to make a paste)
1 Tbsp garlic paste (take 6 cloves of garlic of ginger and water and blend to make a paste)
¾ Cup chopped tomatoes
1 Bunch chopped spinach (1 box frozen works too)
1 Chopped onion (about ¾ cup)
Juice of 1 lemon or 3-4 Tbsp of lemon juice (for dehydration and antimicrobial step of chicken)
1Lb of Boneless chicken- breast or thigh. Can also use tofu, shrimp or beef.
1 Charcoal piece, or natural coal piece
1 Small glass or metal bowl or ramekin
1 Tbsp Melted butter or 1 Tbsp ghee or olive oil
Directions for Chicken Preparation
Chicken Dehydration and Antibacterial Steps -Restaurant Tip REVEALED: Take boneless chicken (breast or thigh) and add lemon and 2-3 tsp Salt, mix and leave for 10 minutes. You can also use tofu, beef or shrimp.
After 10 minutes wash out lemon and salt, now the chicken is dehydrated (Restaurant Tip REVEALED) and ready to absorb all the yummy flavors deep into the meat—and the Science: the salt and lemon help reduce any bacteria in the chicken as well.
Direction for Spinach Preparation
Take a hot pan and add your 3 Tbsp oil. When oil is hot add your chopped onions and cook until properly browned and caramelized.
Then add your ginger and garlic paste and 1 tsp of olive oil and cook for 5 minutes (if getting dry add a little water).
Now add your chopped tomatoes and cook for 5 minutes.
Add salt, red chili powder, turmeric powder, cumin, coriander powder and a little water, cook for 3-5 minutes. Cook until tomatoes cooked down almost to a thick sauce level if possible.
Add chopped spinach, stir and cook for 3 minutes, add a little water and then cover. Place on the lowest heat setting.
Read 4 Spices for a Healthier Heart
Cooking the Chicken

Take a hot pan and add your 2 Tbsp oil.
Add Chicken and stir for 1 minute and then add curry powder and salt to taste and cook until well done and a little crispy.
Now that chicken is cooked plate your spinach and chicken together in one bowl/pan and find a lid that fits well over the container. A glass round pyrex with cover would work well.
Smoking the Dish

Get your metal or glass bowl and pour the ghee or butter inside the bowl.
Put this bowl on top of the chicken and spinach and have your lid ready.
Restaurant Tip REVEALED: Get your charcoal piece and heat till you get a little red, orange, blue color on your charcoal piece right on your gas flames using tongs- be mindful of your hands. As soon as you get your charcoal really hot, immediately put in inside the bowl with the ghee or butter and cover the chicken spinach dish with the lid.
Now watch the smoking magic. This is fun and a crowd-pleaser for guests, kids, and these days zoom family events!
You can let the smoke die down or just keep it covered for 5 minutes and then enjoy with your favorite tortillas, rice, noodles, steamed cauliflower, quinoa, or alone as a stand-alone dish.
DISCLAIMER: This recipe contains affiliate links, which means that if you click on one of the ingredient links, Naturally Savvy will receive a small commission so we can keep pumping out amazing recipes like this one. Thank you so much for your support!
We are always looking for the latest research on health. Subscribe to be on the cutting edge of all things healthy living: