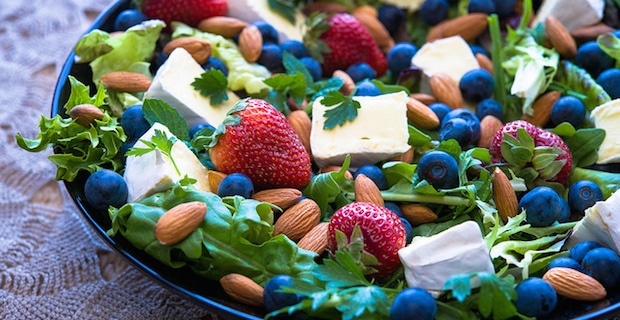 Do you want to be more healthy? Are you looking to lose weight? Next time you're looking for an easy meal, skip the drive-thru and raid your fridge instead! Summer salads are a nutritious "fast food" that can be made ahead with ingredients you probably already have. For a simple lunch or dinner, add some protein and you'll have a ready to eat one dish meal.
Summer salads are a golden opportunity to replace those unhealthy fast food meals. Choose simple, nutrient dense ingredients such as the ones listed below, and learn to combine your family's favorite foods to ensure enthusiasm from all. Prepare ingredients, and often the complete salad, a day ahead, or even the weekend before – just remember to keep the dressings in a separate container from the fresh greens. And make sure to get the whole family involved!
Read more tips for making family meals healthy and fun
Fruits and vegetables are loaded with phytonutrients, nutrients found only in plants. They are excellent additions to your diet, whether rebuilding an immune system, healing and/or recovering from illness, or maintaining overall good health.
Of course, phytonutrients are not the only nutrients found in salads. There are vitamins and minerals abound in fresh fruits and vegetables. Try to use good quality protein sources, such as unprocessed flesh foods like chicken, fish, beef, eggs, beans, grains, nuts and seeds (organic if possible). Use natural sweeteners, if necessary, such as honey, stevia, agave, maple syrup or brown rice syrup. Ideally, use complex carbohydrates, such as whole cooked grains and beans, and if using flour products in or with your salads, choose whole grain pastas and breads. To ensure your essential fatty acid intake, incorporate raw nuts and seeds and avocado and select healthy fats such as the oils suggested below.
Salads can be fun and easy to make as you start to mix and match your favorite flavors. Here is a list of different ingredients for you to choose from when creating your own salad masterpieces.
Vegetables
Read more about eating the stems, skins, and tops of veggies
Herbs
Fruits
Proteins and Carbohydrates
Read more about the healthiest beans, grains and legumes
Dressing Ingredients
[Editor's Note: Click here for a helpful guide on the characteristics of culinary oils from Naturally Savvy's partner, NOW Foods.]
Image via Amazing Almonds