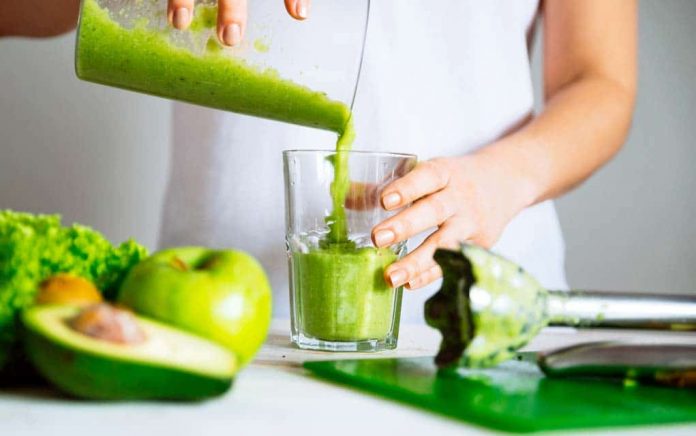 Smoothies can be a great (and fun) way to consume nutritious foods for breakfast, for lunch or as a post-workout meal. When following the low-FODMAP diet, there are plenty of options to make appealing and satisfying smoothies.
I want to share how to make a smoothie low in FODMAPs:
Smoothies Can Be FODMAP Fruit Bombs

If made incorrectly, smoothies can have too much excess fructose or polyols (FODMAPs) due to adding too many high-FODMAP fruits or low-FODMAP fruits.
High-FODMAP fruits that we may often see used in smoothies include avocado (if more than a 1/8th slice of one medium avocado), dates, guava (unripe – however ripe is low-FODMAP), lychee, mango, peaches, pears, and watermelon. Be sure to check with my high-FODMAP list to see what other fruits are high in FODMAPs.
When following the low-FODMAP diet, the correct protocol is to consume one low-FODMAP serving of fruit per sitting. That can mean one serving of one fruit or two half servings of two fruits. For example, low-FODMAP fruit servings include (but are not limited to) 20 blueberries, 10 strawberries, chopped, 1 medium ripe banana or 1 cup papaya, chopped. If you wanted to use two fruits in a smoothie you would simply use half servings such as 10 blueberries and a half medium ripe banana, or 5 strawberries and half medium banana or a ½ cup papaya, chopped with 5 strawberries.
Could a Low-FODMAP Diet be the Missing Link for IBS Sufferers?
Sometimes smoothie shops will use other high-FODMAP fruit ingredients such as apple juice, orange juice (with most types of orange juice more than a ¼ to ½ glass, or 125ml is high in FODMAPs), apricot juice, pear juice, mango juice, or tropical juice.
Other High-FODMAPs to Avoid in Smoothies
Sweeteners such as honey, agave, and golden syrup (more than a ½ tablespoon of golden syrup), are high in FODMAPs (the "O" in FODMAPs, Oligosaccharides-fructans and the "M" in FODMAPs, Monosaccharides -excess fructose) and should be avoided.
Dairy or milk products are also used in smoothies and can add high amounts of lactose (the "D" in FODMAPs, Disaccharides). You'll want to avoid regular yogurt, regular milk, regular kefir, or other milk products that do not say "lactose-free." You'll also want to check ingredient labels on lactose-free products and ensure high-FODMAPs are not present.
Want a scoop of protein? It's best to avoid unless at home you have a protein powder made with low-FODMAP ingredients (see my list of suitable powders and brands below). Many protein powders are tricky as they contain high-FODMAPs such as polyols (xylitol, sorbitol, mannitol, etc.), as well as inulin (a.k.a. chicory root, chicory root extract, oligosaccharide), or milk products such as whey protein. Whey protein isolate is low in FODMAPs. Whey protein concentrate and hydrolyzed whey protein are only OK if a lactose-free claim is also made. Sacha inchi protein, egg protein, and rice protein are all low in FODMAPs.
Many protein powder brands also use pea protein. Not enough data exists to say whether or not pea protein is low in FODMAPs so it's best to avoid for now, unless you feel it won't be an issue for you personally. IBS is very individualized. A good thing to remember about Irritable Bowel Syndrome (IBS) and the low-FODMAP diet is that it's best to follow suggested low-FODMAP servings but if there's a food that has not been analyzed and tested for FODMAPs and you really want to try it, your reaction or non-reaction to food may be completely different from the next person who has IBS. You can test your own tolerance accordingly, starting off with small amounts of food. Keep a Food & Symptom Diary handy!
Suitable Low-FODMAP Protein Powders
Egg White Protein Powder
Organic Rice Protein Powder
Whey Protein Powder (lactose-free)
For a list of low-FODMAP fruits, sweeteners, milk, nuts and nut butter, seeds, and other smoothie ingredients please refer to my grocery list.
Tips for Success on the Low-FODMAP Diet
5 Low-FODMAP Smoothie Recipes
For all recipes below, just add milk and ice first to the blender, then add remaining ingredients and blend until smooth.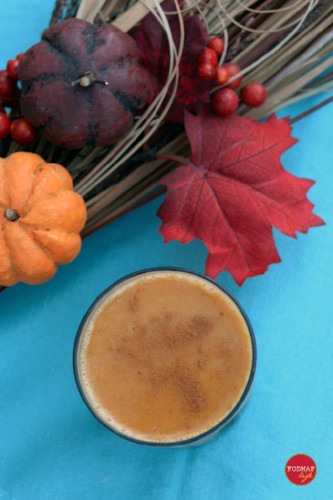 Low-FODMAP Pumpkin Smoothie
½ frozen medium ripe banana, peeled
¼ cup pumpkin puree (canned)
½ cup coconut milk (canned)
¼ teaspoon pumpkin pie spice
1 tablespoon maple syrup
½ cup ice
Garnish with a pinch of cinnamon
Low-FODMAP Chocolate Sesame Smoothie
1 tablespoon sesame seeds (unhulled if possible)
2 heaped teaspoons unsweetened raw cocoa powder
Half of one medium frozen banana, peeled
1/8th slice of one medium avocado
1 tablespoon maple syrup
1 cup low-FODMAP milk of choice
½ cup ice
Low-FODMAP Almond Banana Smoothie
1 frozen medium ripe banana, peeled
1 tablespoon almond butter
¼ teaspoon cinnamon
1 cup low-FODMAP milk of choice
1/2 cup ice
Strawberry Morning Smoothie
From The Everything® Low-FODMAP Diet Cookbook (Publisher: F+W Media, April 2016)
1/2 cup unsweetened coconut milk (preferably canned)
1/2 ripe frozen medium banana, peeled
5 frozen strawberries
¼ cup gluten-free quick-cooking oats
½ teaspoon alcohol-free vanilla extract
Low-FODMAP Coconut Banana Dream Boat Smoothie
½ frozen medium ripe banana, peeled
2 tablespoons unsweetened shredded coconut
1 cup light almond milk
2 heaped teaspoons raw cocoa powder
½ cup ice
Sign up for our newsletter:
Sources:
FODMAPs and Protein Powders May 29, 2014 Patsy Catsos
The FODMAP Friendly Food Program
Monash University Low FODMAP Resources