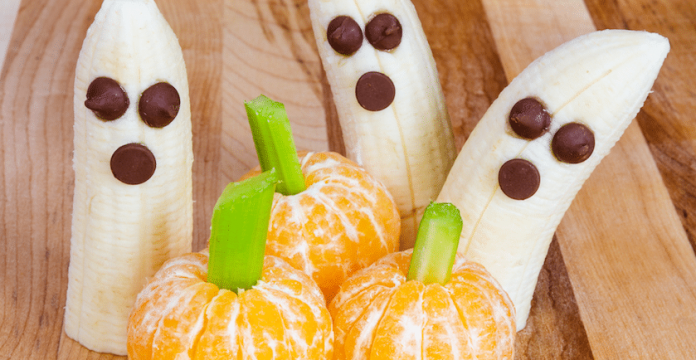 Just in time for Halloween, healthy Halloween treats, we have a Facebook Live Made By Me featuring Brooke and KC! We love to play with our food, and we have some great ways to Unjunk your Halloween Junk Food! All these recipes are super quick and easy and a great, fun way to get the whole family involved. We used healthier alternatives for traditional candy to make sure our candy is free of GMOs, artificial colors or flavors, HFCS, and trans fats.
4 Tips for a Healthier Halloween
Halloween Spiders
Ingredients
Organic waffles (we like Nature's Path since they're gluten and egg-free if allergies are a concern)
Organic chocolate chips
Directions
Cut the waffles into strips so you have 3 legs for each spider. Use maple syrup as glue to hold the spider eggs in place. Cut the banana in half and put chocolate chips pointy-end in as eyes for your ghosts.
Pumpkins
Cut a hole in the top of Surf Sweets Peach Rings and place slices of the lime peel as a pumpkin stem.
Boo Bark
Ingredients
Organic sandwich cookies
Organic gummies and jelly beans
SunSpire Sun Drops (or another healthy Smarties alternative)
Food coloring-free marshmallows
1 bar each of organic milk, white, and dark chocolate
Pretzels
Directions
Crush the cookies and layer them in the bottom of a square pan lined with parchment paper. Top with assorted candy. Melt the chocolate bars in a double boiler on the stovetop. Use a spoon to drizzle the chocolate to cover all the candy. Top with pretzels and gummies. Freeze for 10 minutes and enjoy!
Read more about ways to Unjunk Your Junk Food here