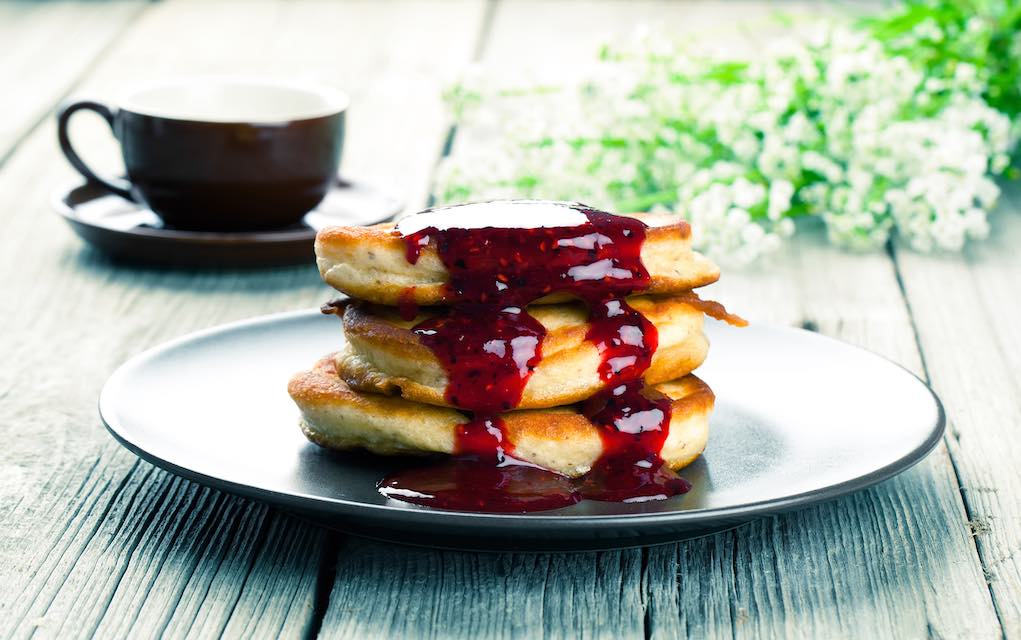 Pancake Day, Pancake Tuesday, Shrove Tuesday…
…is the day in February or March each year, that precedes Ash Wednesday, the beginning of Lent and the Easter season. The tradition began as a way of indulging before giving up something for Lent. So to help you celebrate we have some healthy ways to top pancakes.
Pure Maple Syrup
Banana Slices
Nut Butters (like those from NowFoods)
Non-dairy Yogurt
Non-dairy Whipped Coconut Milk (Place two cans of unsweetened coconut milk in the refrigerator overnight. The next day, open the can and remove the solid portion into a chilled bowl. Discard the watery portion. Add a bit of stevia or monk fruit sweetener to the bowl and using a mixer, whip the coconut milk until soft peaks form. Scoop a dollop onto your pancakes.)
Homemade Blueberry Syrup (see recipe below).
Homemade Blueberry Syrup
Ingredients
6 Bigelow Benefits Blueberry Aloe tea bags
1 cup of water
1 cup of sugar
1/4 tsp lemon juice
Makes about 1 cup/240 ml
Fresh blueberries or raspberries or both
Directions
Bring the water to a boil. Add the tea bags and allow to steep for 5 minutes. Let the tea reduce down a bit while still boiling. Reduce the heat and add in the sugar and lemon juice stirring until all of the sugar dissolves. Pour over pancakes while still warm. Enjoy.
DISCLAIMER: This article contains affiliate links, which means that if you click on one of the product links, Naturally Savvy will receive a small commission so we can keep pumping out amazing articles like this one. Thank you so much for your support!
For more great recipes and articles sign up for our newsletter.