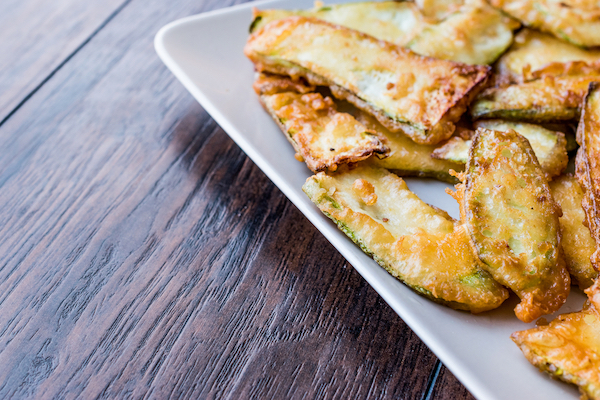 No one enjoys soggy food and zucchini contains a lot of water. If you have ever tried to make zucchini fries in the oven, your results may have been less than crispy. Enter the air-fryer for crispy results without the unhealthy process of deep-frying. These make a perfect snack or side for dinner.
Ingredients
½ cup flour
2 eggs, beaten
1 cup seasoned breadcrumbs
salt and pepper
1 large zucchini, cut into ½-inch sticks
olive oil in a spray bottle can or mister
Directions
Wash and dry the zucchini. Cut off ends and slice into 1/4 inch "fries".

Wisk egg is a bowl. Dipping each zucchini fry into the egg to coat.

In a separate bowl combine breadcrumbs, salt, and pepper. Coat each fry with the dry ingredients.

Place the fries into the air-fryer basket and spread them out. Spray with a bit of oil.

Set the air fryer for 400 degrees and 7 minutes. Check and if they are browned then remove, if not cook 1-2 more minutes.
More zucchini recipes:
Vegan Chocolate Zucchini Muffins Recipe
Basil Cream Zucchini Pasta
Zucchini Sushi Rolls
Wheat-Free Baked Zucchini Pizza Recipe
Sign up for our newsletter:
DISCLAIMER: This article contains affiliate links, which means that if you click on one of the product links, Naturally Savvy will receive a small commission so we can keep pumping out amazing articles like this one. Thank you so much for your support!