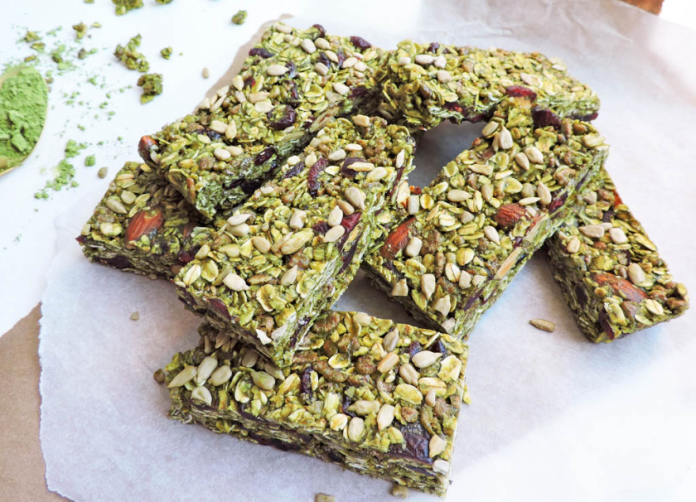 Granola bars are popular for a lot of reasons: they're tasty, cheap, easy to take with you, and they make a great breakfast substitute when you're in a hurry. The problem is though, store-bought bars aren't actually that healthy. They can contain Scary Seven ingredients like high fructose corn syrup or preservatives.
Read about where high fructose corn syrup can hide in your food
This homemade granola recipe is completely natural with no additives or preservatives, and it's vegan-friendly too. It also includes matcha green tea powder which gives the granola bars a healthy superfood boost.
Matcha is made by stone-grinding the entire green tea leaf which preserves all of the plant's goodness, and because of this, matcha contains 137x the antioxidants of standard green tea. That's why this vibrant green powder is linked to raising energy levels, boosting metabolism, improving memory and concentration, and strengthening the immune system.
Whipping up a batch of this wholesome granola to have on hand when you need a quick and healthy snack will give you all the benefits that matcha has to offer.
This recipe makes 14 bars.
Ingredients
2 cups rolled oats (can be gluten-free)
1 ½ cups unsweetened puffed rice cereal (rice, quinoa or millet work well)
1 cup pepitas
½ cup roughly chopped dried fruits (we love figs, raisins, prunes, dates and goji berries)
½ cup tahini
1/3 cup brown rice syrup
1 ½ tbsp matcha
3 tbsp maple syrup
2 tbsp organic coconut oil (from Barlean's, Lily of the Desert or NowFoods)
¼ tsp sea salt
1 tsp vanilla extract
Instructions
Preheat your oven to 325 F/160°C and while it's warming up spread your oats and pepitas in a thin layer on a baking tray. Bake them for 10-15 minutes, stirring twice until the oats are golden and they have a nutty aroma.
While the oats and pepitas are baking, add the tahini, brown rice syrup, maple syrup, coconut oil and vanilla extract to a small saucepan. Whisk the mixture while it gently heats, being careful not to let it boil.
Cool the oats and pepitas then add them to a large bowl along with the puffed cereal, matcha, and salt. Pour in the wet ingredients and mix quickly to combine everything.
Line a brownie pan and pour in the mixture, pressing it firmly to even it out (paying particular attention to the corners).
Refrigerate for 2-3 hours for the mixture to firm up, then slice it into bars.
These granola bars can be stored in the fridge for up to two weeks, and they make a beautiful gift when wrapped in parchment and tied with twine.
Erin Young is a health writer, tea expert and owner of two tea brands: Evergreen Matcha in the USA and Zen Green Tea Matcha in Australia. She partners with sustainable tea farms based in Kyoto (Japan) to ensure the best possible quality matcha green tea powder.