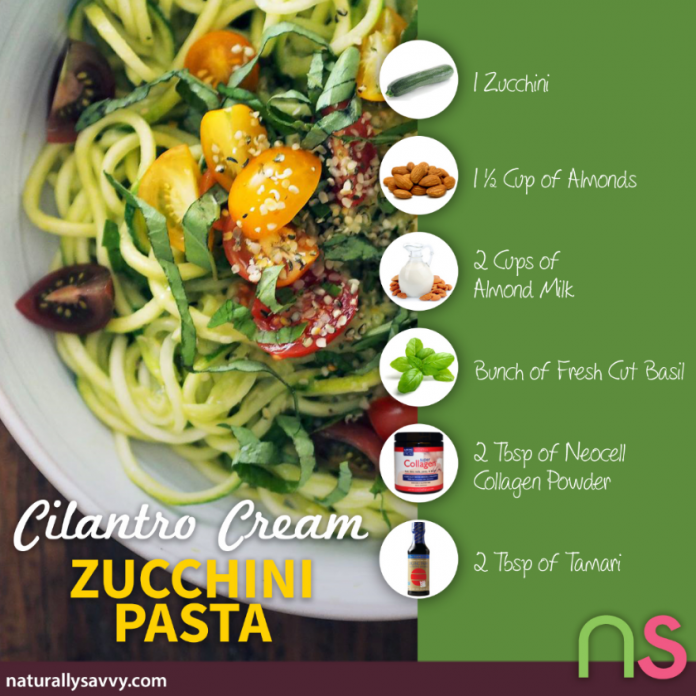 This light summer pasta alternative is packed with nutritious ingredients that will leave you satisfied and glowing. Zucchini noodles are a super gluten-free substitute and the sauce has a little kick of cayenne. This is the perfect meal for a hot summer night or to bring to a potluck dinner.
Ingredients:
1 Zucchini (Spiralized)
1 1/2 Cup of Almonds
2 Cups of Almond Milk (No Sugar Added)
1/2 Cup of Nutritional Yeast
3/4 Cut Cherry Tomatos
Bunch of Fresh Cut Basil
2 Tablespoon of Neocell Collagen Powder
2 Tablespoon of San-J Tamari (Gluten Free Soy Sauce)
Pinch of Cayenne Pepper
1 Tablespoon of Apple Cider Vinegar
1 Tablespoon of Hemp Seeds
Instructions:
1. Spiralize Zucchini
2. Blend Sauce ingredients from almonds through to apple cider vinegar.
3. Top with Hemp Seeds. Enjoy!
This recipe originally appeared on Neocell's site.