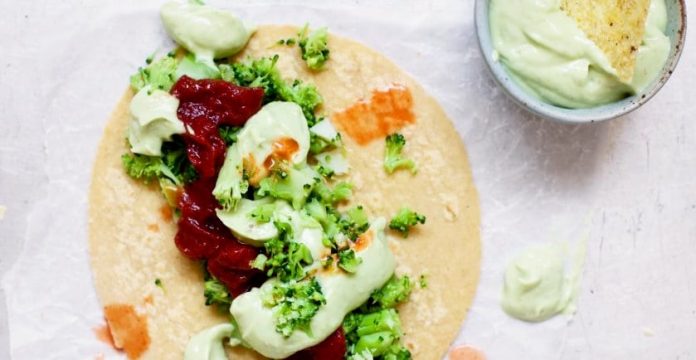 Broccoli Tacos with Probiotic Avocado Crema
It doesn't need to be Cinco de Mayo to eat these super-easy (superfood!) tacos. Try them as a meatless Monday option; enjoy a few on a Friday night while watching a movie; or pack for lunch and assemble at work or school – the sky's the limit with this meal. I'm positive these tacos, with this gorgeous Bio-K+ Avocado Crema, will give you something to taco-bout.
Bio-K Avocado Crema
1 Bottle Bio-K Original
1 small avocado or ½ large avocado, flesh only
2 Tbsp lime juice
½ clove garlic
½ tsp coriander seed
½ tsp ground cumin
¼ tsp sea salt
Tacos
8 small organic corn or whole grain tortillas (2 per person)
1 head broccoli, cut into bite-sized pieces, steamed, and finely chopped
salsa
hot sauce
Directions
Add all ingredients for the avocado crema to a blender or food processor. Puree until smooth and creamy. Transfer to a bowl, cover and refrigerate for until ready to serve or up to 3 hours.
Fill tortillas with broccoli and salsa, and top with a generous portion of avocado crema. Finish with hot sauce and serve immediately.
Tips
Boost the protein in these tacos with cooked chicken, beef, fish, tofu or black beans.
This recipe is perfect for quick weeknight meals or as part of larger spread when entertaining.
READ MORE: 7 Best Vegan Protein Sources
Recipe and image courtesy of Allison Day and Bio-K+.