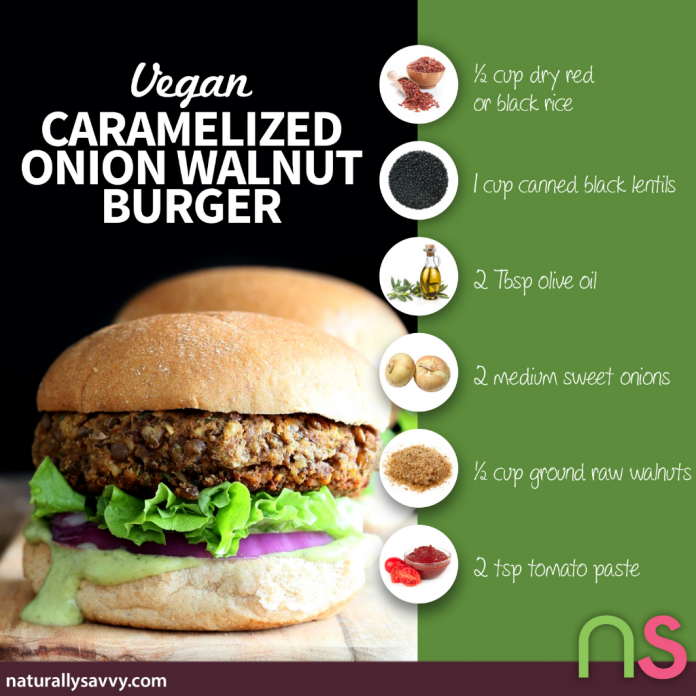 How can you go wrong with this delicious vegan burger? Thank you Catherine Katz aka Cuisinicity for bringing us this recipe in time for long weekend and summer BBQs. Walnuts not only resemble our brains, but have Omega-3's to nourish it as well.
Makes 7 patties.
Ingredients
Chewy Base:
½ cup dry red or black rice
"Meatiness":
1 cup canned black lentils, rinsed and well drained (packed!)*
2 Tbsp olive oil
2 medium sweet onions, chopped (makes 3 cups raw chopped)
Binding:
½ cup ground raw walnuts
½ cup rolled oats
2 tsp tomato paste
½ tsp dijon mustard
1 tsp garlic powder
1 tsp onion powder
½ tsp salt
fresh ground pepper to taste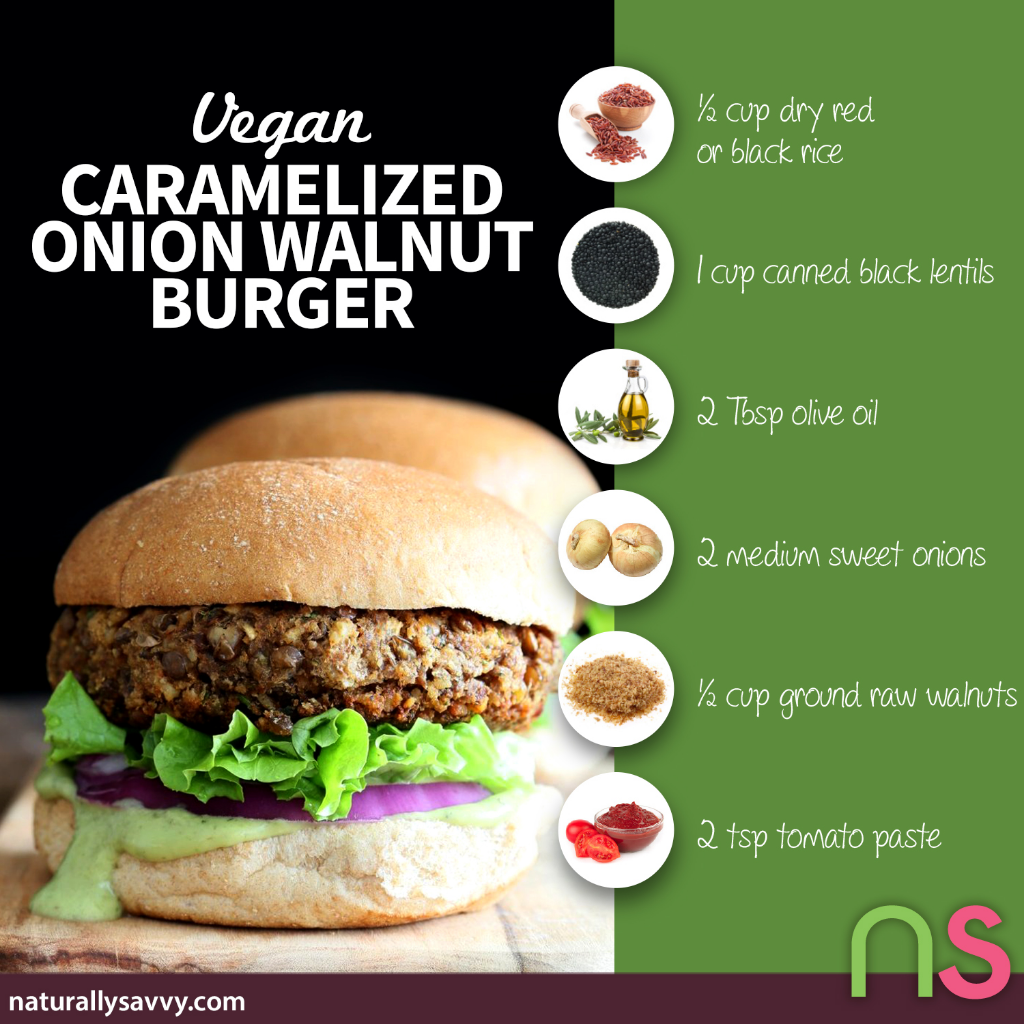 Instructions
1. GETTING EVERYTHING READY:
2. Preheat a medium pan and when hot, add the olive oil and 3 cups chopped raw onions and cook, uncovered while stirring for a few minutes.
3. Turn down the flame to a simmer and continue to cook, uncovered, for 15 minutes, until the onions are caramelized to a golden brown, then turn off the stove and cover until ready to assemble. You will end up with 1 cup cooked caramelized onions.
4. Meanwhile, place ½ cup dry red or black rice in 2½ cups boiling water and cook uncovered, until water has evaporated (about 20-25 minutes). 5. 6. Transfer to a bowl and set aside to cool. You will end up with 1¼ cup cooked rice.
7. Place the raw walnuts in the bowl of a small food processor and grind until medium fine (it shouldn't be a powder) and set aside (you will end up with ½ cup ground walnuts).
8. Place the rolled oats in the bowl of a small food processor and grind until coarsely ground (it shouldn't be a powder) and set aside.
9. Place the canned (or cooked) lentils (make sure they are well rinsed and drained and they are well packed in that cup!) in food processor and grind, scraping the sides to form a paste. Transfer to a cup and set aside.You will end up with about ¾ cup pureed lentils.
10. ASSEMBLING:
11. Place the caramelized onions, ground walnuts, ground oats and pureed lentils in a medium bowl and stir gently with a spoon.
12. Add tomato paste, dijon mustard, onion powder, garlic powder, salt and pepper and stir again.
13. Add the cooked rice last and, using your hands, "dig in" and work the mixture so that it forms a ball.
14. Form into 7 equal patties (I like to use a big ice-cream scooper to make them more regular & compact and finish forming the patty with my hands). you can refrigerate or freeze at this point until ready to grill.
15. When ready to grill, drizzle a little olive oil in a large non-stick skillet and heat over high heat. When the pan is very hot, place the patties on the pan and cook for 2-3 minutes on each side.
Optional: Use a pastry brush to coat each patty with BBQ sauce (if using) on both sides (about 1 Tbsp per patty) and serve on soft wheat buns with garnishings.
Cuisinicity Tip 1: I like using black beluga lentils for this recipe, but French lentils or brown lentils will do too. Just follow package instructions as each is a little different. You will need about 1/3 cup dry lentils to make the 1 cup cooked lentils you need. I personally use canned organic black beluga lentils.
This recipe originally appeared on Cuisinicity.