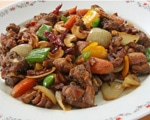 Now that we know how to sauté, use the technique for a stewed chicken dish. A favorite ethnic dishes, chicken paprika, a traditional Hungarian recipe. Hungarian paprika is some of the best in the world and use it in this classic dish if you can find it.
Ingredients:
2 Onions, large, chopped
4 tablespoons Extra virgin olive oil and/or butter
3 tablespoons Paprika (preferably Hungarian)
1 tablespoon Flour
3-4 pounds Chicken, cut into 10 pieces
1-1/2 cups Water or chicken stock
1 cup Sour cream or plain yogurt
To taste Kosher salt and fresh ground pepper
Steps/Methods:
Heat oil and/or butter in large, heavy pot over medium heat.
Salt and pepper chicken pieces, and working in batches if necessary, brown chicken in the pot.
Place chicken in a bowl. Add onions and paprika to pot and sauté until onions are translucent, about 10 minutes.
Stir occasionally, and make sure to scrape off any meat that has stuck to bottom of the pot.
Add flour and stir for 30 seconds. Return chicken and any accumulated juices to the pot.
Add water or stock, cover and let simmer until the chicken is cooked through (but still tender), about 30-40 minutes.
Add sour cream or yogurt and mix well.
Correct seasoning with salt and pepper. Serve over mashed potatoes, egg noodles, rice, spaetzle, etc.
Other Considerations:
Don't be afraid to cook the Chicken Paprika in advance and eat it two or three days later. Like most soups, stews and braises, this dish only gets tastier by sitting in the refrigerator.
If you are going to store this meal for a day or two, let it cool completely after the dish is finished. Make sure the chicken is submerged in liquid so it doesn't dry out while cooling. After the dish cools, store the chicken and the sauce in separate, covered containers in the refrigerator. When you are ready to eat, remove the congealed layer of fat that may have developed on top of the sauce. Heat the sauce and chicken together over low heat.
Additional Tips:
2 Onions, large, chopped
4 tablespoons Extra virgin olive oil and/or butter
3 tablespoons Paprika (preferably Hungarian)
1 tablespoon Flour
3-4 pounds Chicken, cut into 10 pieces
1-1/2 cups Water or chicken stock
1 cup Sour cream or plain yogurt
To taste Kosher salt and fresh ground pepper