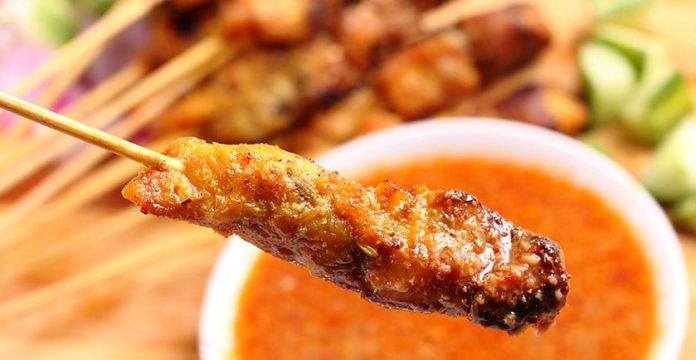 Looking for a new way to make chicken? A satay is a low-carb Indonesian dish that involves skewered meat that is basted typically in a peanut sauce and then grilled. This recipe is simple to make and is perfect as either an appetizer or main dish. Pair it with the delicious spicy peanut dipping sauce (recipe below) that brings together a mixture of ingredients guaranteed to delight your palate.
Ingredients
1 teaspoon finely chopped garlic
1 teaspoon salt
1/4 teaspoon white pepper
2 tablespoons San-J tamari soy sauce
1 tablespoon dark molasses
2 teaspoons fresh lime juice
2 lbs boneless skinless chicken breasts or 2 lbs boneless skinless chicken thighs, cut into 1-inch cubes
2 tablespoons Ellyndale olive oil
Directions
Combine the garlic, salt and pepper in a deep bowl and mash them to a paste with the back of a spoon. Mix in the soy sauce, molasses and lime juice. Add the chicken cubes and toss until they are evenly coated. Marinate in the refrigerator for 2 hours, stirring occasionally. Remove the chicken from the marinade and thread it tightly, 4 or 5 pieces at a time, on small skewers (preferably Asian wooden skewers about 6 inches long). Brush the oil evenly over the chicken. Cook on the barbecue grill or under the kitchen broiler for 5 to 10 minutes, turning occasionally, until the chicken is crisp and brown. Serve at once, with the meat still on the skewers, accompanied by Spicy Peanut Dipping Sauce (recipe below) presented in a separate bowl.
Spicy Peanut Dipping Sauce
1/2 cup natural creamy peanut butter
3 tablespoons San-J tamari soy sauce
1/4 cup low-sodium chicken broth
1 tablespoon maple syrup
1 1/2 tablespoons minced fresh ginger
2 tablespoons lime juice
1 teaspoon minced garlic
1 teaspoon red curry paste
Pinch of cayenne
1 green onion, roughly chopped
Place all ingredients in blender and blend until smooth. Serve in a small dish to accompany chicken satays. Sauce will keep 3 to 4 days in the refrigerator. Makes about 1 1/4 cups.