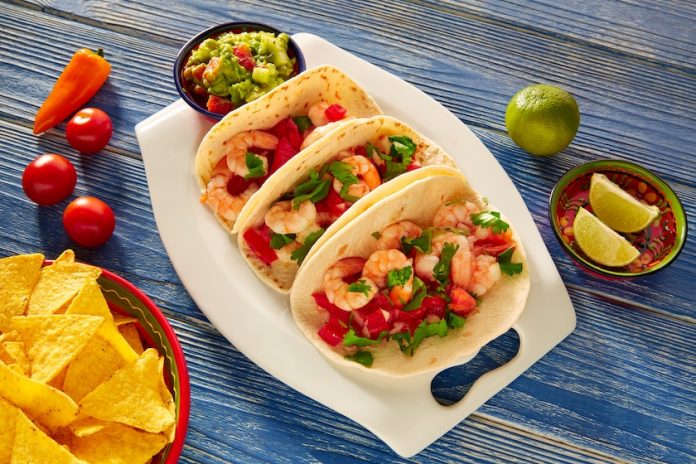 Beef and chicken usually star in taco dishes, so try this break from tradition. The cilantro and garlic shrimp is mouthwatering and will soon become a staple taco filler. Celebrate Cinco de Mayo with these yummy shrimp tacos.
Ingredients for Shrimp Tacos
1 small bunch cilantro (20g)
5 cloves garlic
1 bunch green onions, chopped
1 bag of large shrimp (30-40 shrimp)
2 cups sliced mushrooms (Chef's Note: I use mini bellas)
Organic canola or grapeseed oil
Fixings
Romaine lettuce for the shell or Organic Corn or Gluten-free Tortilla wraps or taco shells
Diced tomatoes
Shredded lettuce
Shredded cheese or non-dairy alternative
Sour cream or non-dairy substitute
Salsa or guacamole of choice
Directions
In a food processor/chopper grind the garlic and cilantro. Heat oil in a pan on med/high heat. Add green onions and garlic/cilantro mix. Add mushrooms and sautée while mixing periodically for about 10 minutes. Remove from heat, place in a bowl and cover.
Reduce the heat to low/med and add the shrimp. Cook until both sides become pink. Add the veggie and cilantro mix back into the pan and mix well. Cook covered, mixing periodically, for 4-5 minutes.
Warm up tortillas and top with fixings and shrimp. Enjoy!
To receive new recipes to your inbox, sign up for our newsletter.