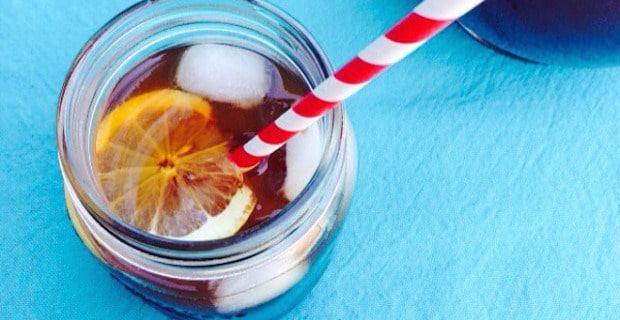 If you enjoy a large glass of iced tea but don't want any nasty artificial or refined sugars this recipe is for you. Keep it classic with black tea or put your own unique spin on the classic with green tea, oolong or perhaps a rooibos… the choice is yours!
Ingredients:
6 Bigelow Organic Ceylon Black Tea bags
8 +1 cups filtered water
1 organic lemon
½ cup honey
Read more about the health benefits of tea
Directions:
Boil 8 cups of water. Add boiling water to a heat safe pitcher and add tea bags and the zest of one organic lemon. (Tip: use a vegetable peeler to zest your lemon. The large pieces make it easier to remove after the tea has steeped.) Steep tea for 6-8 minutes depending on how strong you like your tea. After it has steeped, remove tea bags and lemon zest with a slotted spoon. Let tea cool to room temperature. In the meantime make your sweetened syrup. In a heat proof measuring cup combine honey with 1 cup boiling water. Stir to dissolve. Let cool. Once tea and sweetener are cooled fill a large pitcher with ice . Pour tea and sweetened syrup into the pitcher and stir with a wooden spoon. Serve with a little sliced lemon and enjoy!
Image via Deanna Harris