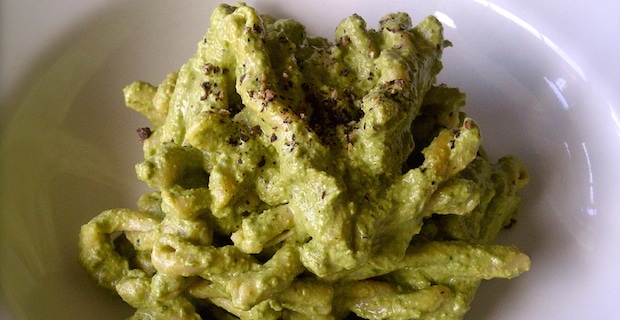 Pesto and pasta are a perfect pair. Full of healthy fats, pesto is a filling, nutritious and delicious addition to your pasta plate. Choose a whole grain or whole wheat pasta, or try making your own. Although most commercial pesto contains Parmesan cheese, try this yummy vegan version – it's so good you won't miss the cheese!
Ingredients:
½ cup pine nuts
1 cup fresh basil packed lightly
2 tbsp olive oil
1/3 cup onions, chopped
2 cloves garlic, minced
2 tbsp freshly squeezed lemon
Read more about how healthy fats (like olive oil and nuts) don't make you fat
Directions:
Lightly sauté onions and garlic, and then set aside to cool. Once cooled, toss all ingredients into a blender; blend until smooth. Add water to get desired consistency. Mix sauce up with your favorite pasta. Enjoy!
Image: Danielle Wesierski