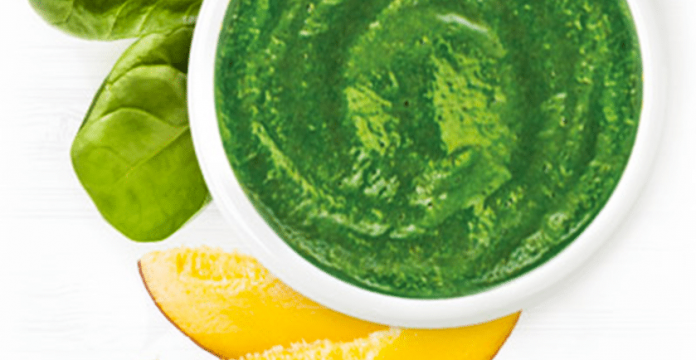 Delicious Spinach, Mango and Pear Green Smoothie Bowl for Baby (and Mom!)
This recipe does double duty. It is perfect just as is for baby or simply add some protein (hemp seeds or a scoop of protein powder) to half the recipe to serve to mom for an energizing start to her day.
Ingredients
2 organic mangos
1 organic pear
1 teaspoon extra virgin olive oil
10 ounces organic baby spinach
1/4 to 1/2 cup of water
Directions
Step 1. Wash, peel, core, and dice mango and pear.
Step 2. Heat oil over medium-high heat. Add spinach and cook until wilted. Drain excess oil from spinach.
Step 3. Place spinach, mango, and pear in a food processor and blend until desired texture, adding water as needed.
Step 4. Once prepared, refrigerate your homemade baby food within 2 hours and use within 24 hours. For later use, store the purée in the freezer in airtight containers portioned into individual serving sizes and use within one week.
Optional: Make this for mom too. To half the recipe, simply add 1 scoop of your favorite protein powder or 2 tablespoons of hemp seeds, use raw spinach, and add a bit more water to desired consistency. So yummy! This delicious and nutritious recipe was provided by our partner Happy Family Brands.