Over the past year my partner and I have slowly been transitioning into going vegetarian which paved the way for this easy baked cauliflower recipe, and other recipes like cauliflower rice. It hasn't been an overnight change, but rather one that has taken time while I plan ways to replace meat-based meals that I used to love with easy healthy recipes.
What started with just taking part in every other Meat Free Monday has now evolved into the majority of our meals being plant and dairy based. We certainly haven't gone the whole way, but it's a start.
Surprisingly, one of the biggest challenges has been appetizers and snacks. And while creating things like my vegan tandoori cauliflower chickpea tacos have not been a problem, it's the smaller dishes that given me the biggest headache.
I've been trying to create veggie-friendly snacks that take some of the things I love about the original dishes, but unleashed in a meat-free and flavorful way.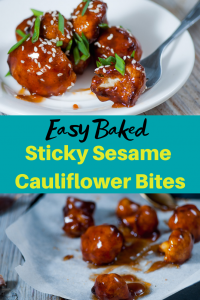 See, often what I love about certain meat dishes is the sauces and spices that go with them. So as long as you can find a good substitute for the meat, then you're in business!
And nowhere is there a better example of this than with my spicy & sweet cauliflower bites.
And with it now being so close to outdoor cooking season, we've been creating some beautiful side dishes and appetizers to go with our experiments on our new outdoor grill.
These easy baked cauliflower bites make the perfect appetizer and opening to a vegetarian barbecued meal. They're filling enough to keep the most impatient of guests content, while they're coated in a light sesame oil and spice mix that gives them a beautiful spicy and nutty flavor.
All finished off with some sesame seeds for a bit of crunch. Yum!
Just one note: I've included hot sauce or sriracha in the recipe, but this is purely optional. I have it because I'm addicted to hot sauce, but it doesn't need to be there if you don't like spice, or would prefer to keep the sugar content down.
Let's get into the recipe!
Prep Time: 10 mins
Cook Time: 20 mins
Total Time: 30 mins
Serves: 4 people
WHAT YOU WILL NEED TO MAKE EASY BAKED CAULIFLOWER BITES
4 cups cauliflower florets
2 whole egg whites
1 cup panko breadcrumbs
½ tsp paprika
½ tsp ground cumin
1 tsp garlic powder
⅓ cup honey
2 tbsp apple cider vinegar
1 tsp sesame oil
1 tsp sweet chili sauce or sriracha (both optional)
3 cloves garlic, minced
¼ cup water
1 tbsp cornstarch
salt and fresh ground pepper, to taste
toasted sesame seeds, for garnish
chopped green onions, for garnish
LET'S MAKE OUR EASY BAKED CAULIFLOWER BITES
Start by preheating your oven to 400°F/200°C. Line a baking sheet or baking tray with cooking spray and set to one side.
In a medium bowl, combine the egg white and cauliflower until the florets are evenly covered.
In a separate bowl, combine the panko breadcrumbs, cumin, paprika, garlic powder, salt and pepper. Once combined, add the cauliflower floret and egg white mix. Combine thoroughly.
Place the florets on the baking sheet. Put in the preheated oven and cook until lightly brown and tender, about 15-20 minutes.
While the cauliflower is cooking, we're going to prepare the sauce. In a skillet or frying pan, add the honey, sesame oil, vinegar, chili sauce and garlic. Stir all ingredients together. Simmer for 10 minutes
Combine the cornstarch and water in a small mixing bowl. Stir until cornstarch has dissolved.
Add the cornstarch and water mix to the honey mix in the frying pan. Stir until thoroughly combined. Remove from heat.
Add cauliflower florets to a medium size bowl. Pour the cornstarch and honey mix over the florets. Mix until combined.
Serve onto plates, garnishing with sesame seeds and green onions. Enjoy!
For more healthy easy recipes, subscribe to our newsletter:
DISCLAIMER: This recipe contains affiliate links, which means that if you click on one of the ingredient links, Naturally Savvy will receive a small commission so we can keep pumping out amazing recipes like this one. Thank you so much for your support!