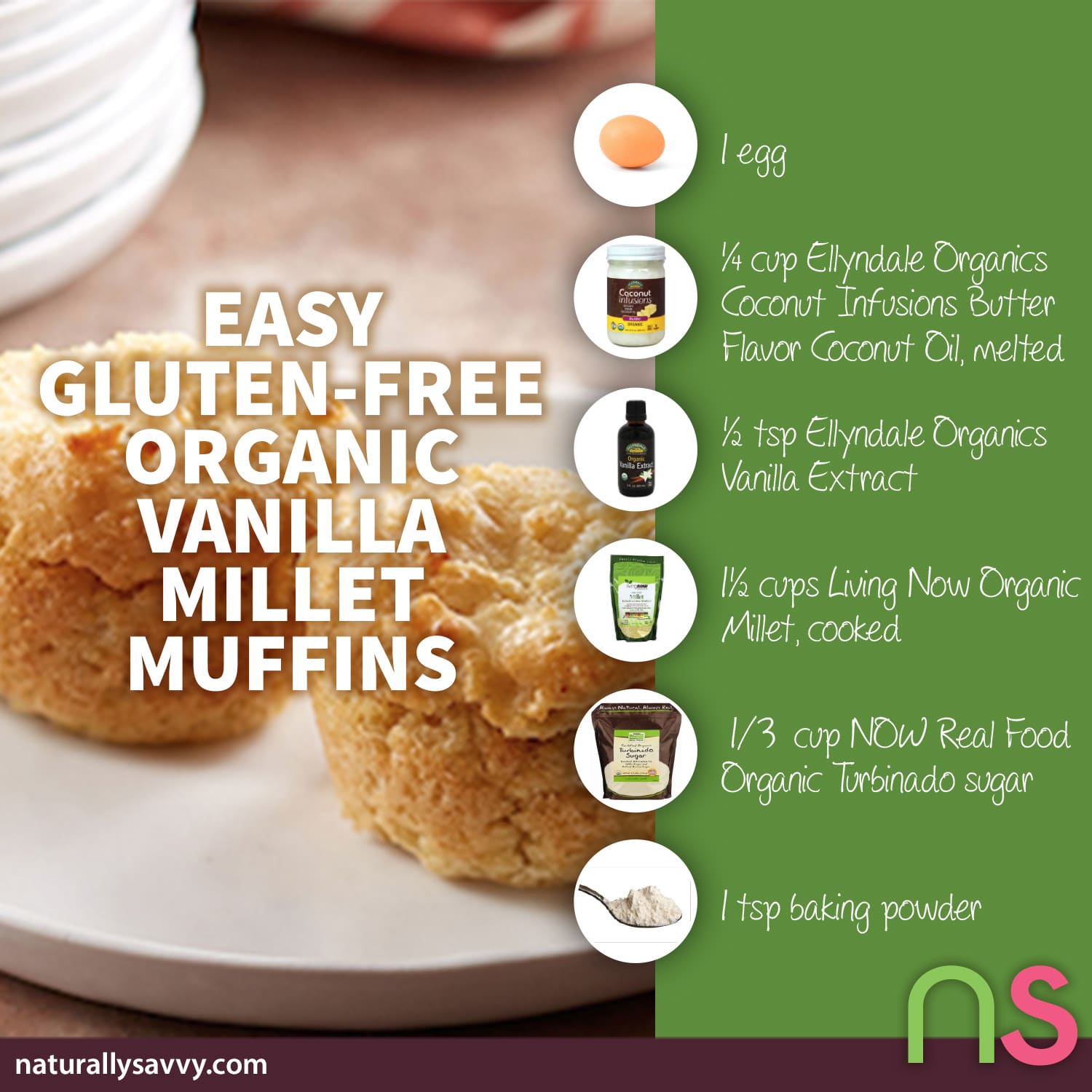 Easy Gluten-Free Organic Vanilla Millet Muffins Recipe
Sneak some healthy gluten-free whole grains into your diet with this delicious dessert or mid-morning treat. Easy-to-make millet is the secret ingredient in this muffin recipe, and it is an excellent source of protein. It is also great for remineralization, containing high levels of iron, magnesium and potassium.
Makes 12 muffins
Ingredients:
1 egg
1/4 cup Ellyndale Organics Coconut Infusions Butter Flavor Coconut Oil, melted
1/2 teaspoon Ellyndale Organics Vanilla Extract
1-1/2 cups Living Now Organic Millet, cooked
1/3 cup NOW Real Food Organic Turbinado sugar
1 teaspoon baking powder
Read more about the healthiest grains, beans, and legumes
Directions: Preheat oven to 350 F and lightly grease a muffin tin. In a bowl, combine egg, Coconut Infusions, and vanilla extract. In a blender on medium speed, combine cooked millet, organic turbinado sugar, and baking powder. Slowly pour egg mixture into the blender with the millet mixture. Blend until all the liquid is fully incorporated and a smooth batter has formed. Scoop batter into prepared muffin tin and bake in preheated oven for 30 minutes, until lightly browned. Remove to a rack and cool for 10 minutes. Serve warm and enjoy! Makes 12 muffins.
Recipe and image courtesy of NOW Foods.