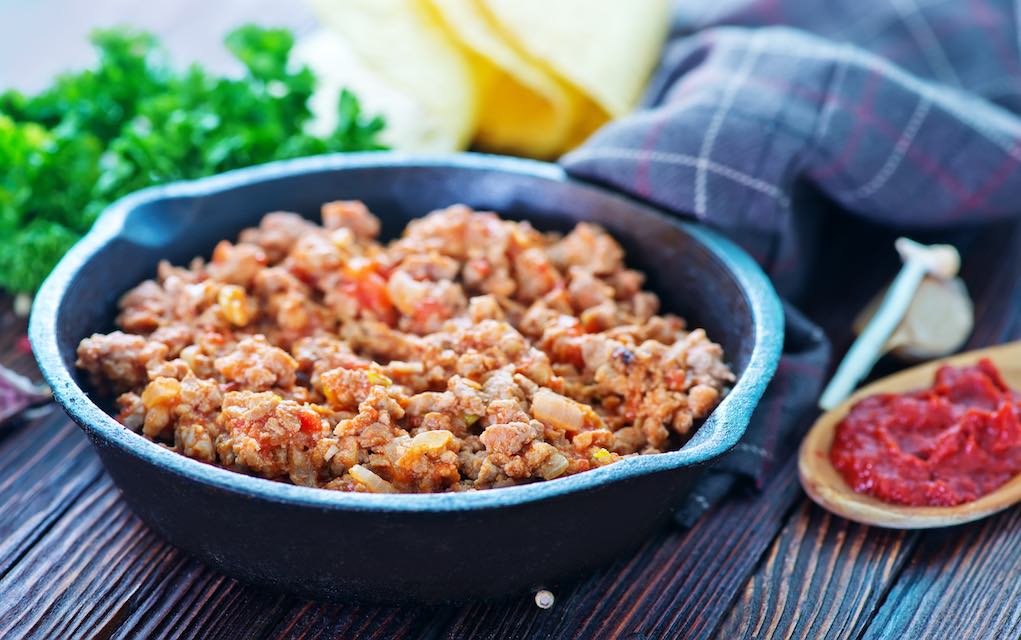 Chili is all about keeping you warm and satisfied during the colder months. This recipe is bursting with rich flavors and won't disappoint.
Ingredients
2 tbsp olive oil
2 pounds ground beef chuck*; boneless
1 cup onion, peeled and coarsely chopped
1 cup green pepper, seeded and chopped
2 tsp garlic clove, minced
1 tsp salt
2 cans organic tomatoes, whole peeled, 14 ½ oz each can
6 oz tomato paste, organic
3 Tbsp chili powder
1 tsp dried oregano 
½ tsp paprika, or to taste
*Beef chuck is a specific cut of beef.  
Optional toppings to serve with chili:
Shredded lettuce
Shredded cheese
Green onion, sliced
Cilantro leaves
Sour cream
Avocado, diced
Jalapeno pepper, sliced
Directions
Heat oil in large skillet over medium heat. Add beef, onion, green pepper and garlic; cook until beef is evenly browned, stirring occasionally. Pour off drippings.

Sprinkle salt over beef. Add tomatoes with juice, tomato paste, chili powder, oregano and crushed red pepper. Break up the tomatoes with the tip of a wooden spoon.

Cover tightly; reduce heat to low to medium-low; simmer for approximately 45 minutes to allow flavors to develop and become rich. Stir occasionally.

Remove the lid and continue to simmer for approximately 15 minutes or until sauce thickens and any excess liquid is evaporated.

Serve with your choice of toppings.
Serves 6


Subscribe to our newsletter as we include easy recipes your whole family will enjoy.