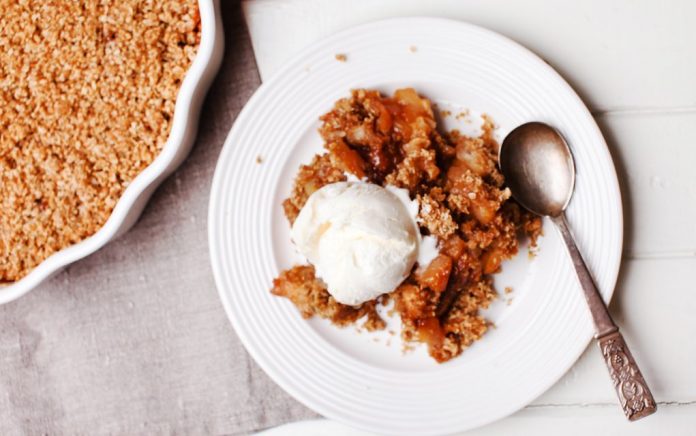 Desserts don't get much easier than our Keto Apple and Ginger Crisp! For many people, it is generally the "sweeter" things in life that makes them come "undone" when sticking to a healthy eating regime. Thankfully this apple ginger crisp is not only super easy to make, it will nourish both body and soul while satisfying any sweet tooth.
This Apple Crisp is like no other because it's loaded with wholesome ingredients such as ginger, flaxseeds, cinnamon and walnuts that will both fight and prevent inflammation. Take advantage of apple season and whip up this keto friendly desert in no time.
Serves: 4
Ingredients you will need
1/3       Cup                 Walnuts, finely chopped
2 – 3    Tbsp                Monk fruit sweetener (or to taste)
2          Tbsp                Pecan pieces
1          Tbsp                Ground flaxseeds
½         tsp                   Ground cinnamon
1/8       tsp                   Ground ginger
1          tsp                   Fresh ginger, minced
2          Tbsp                Butter, soft
6          Lg                    Apples, peeled, cored and thinly sliced
1          Tbsp                Monk fruit sweetener
2          tsp                   Lemon juice, freshly squeezed
Whipped coconut cream to serve
Directions
Heat oven to 400F. Lightly grease a 1 1/2-quart baking dish and set aside.
In a small bowl, combine the walnuts, 2 – 3 Tbsp of monk fruit sweetener (to taste), ground pecans, ground flaxseeds, cinnamon and ginger; mix well.
Add in soft butter into dry mixture with fingertips until it comes together into small crumbles.
Place the slices of apples into the lightly greased baking dish. Add the 1 tbsp of monk fruit sweetener and lemon juice; toss to coat.
Sprinkle apples with the crumb mixture; press gently.
Bake in oven for 25-30 minutes or until apples are tender and mixture is bubbly.
Cool slightly; serve either on its own or with a dollop of whipped coconut cream.