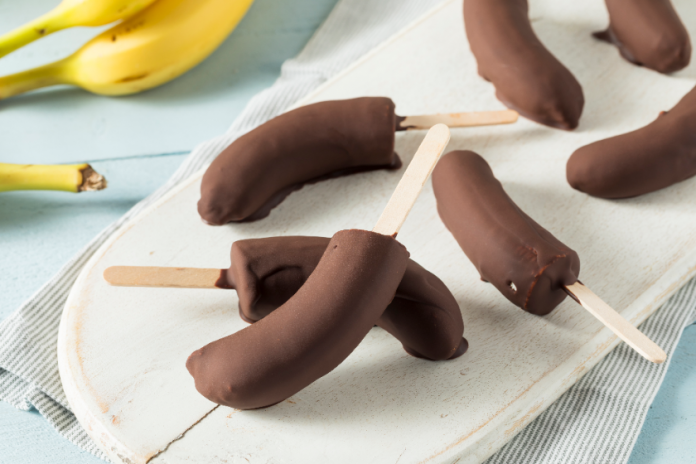 I can't always get my kids to eat their meal but I know they will always eat dessert. Unfortunately, not the gluten-free, sugar-free, flax brownies I love. Serving healthy treats no one eats except me is not worth the effort. When I first made a batch of these Chocolate Covered Bananas I wasn't sure if I would be eating all of them.
I had rolled them in crushed walnuts, pumpkin seeds and hemp seeds. Well, surprisingly they disappeared quite quickly. The feedback was great, they loved the nuts and especially the hemp seeds! I can't make them fast enough since they disappear as soon as I put them in the freezer. They really are quite simple to make and provide a great alternative to store-bought frozen treats.
Ingredients:
8 ounces of good quality dark chocolate
1 teaspoon vanilla
4 bananas
8 wooden craft sticks
Options for rolling:
3/4 cup chopped nuts
2 tablespoons hemp hearts
2 tablespoons chia seeds
crushed pretzels
Directions:
1. Prepare a baking sheet with parchment or wax paper.
2. Cut bananas in half and insert popsicle sticks.
3. Melt chocolate in a double boiler and stir well.
4. Place chopped nuts, hemp and chia seeds in a shallow bowl.
5. Dip bananas in the melted chocolate and then roll in the crushed nut and seed mixture.
6. Place bananas on the parchment lined baking sheet and place in freezer for at least 1 hour or until frozen.
7. Once frozen, wrap individually in wax paper until ready to eat.
This post originally appeared on Nutrilicious.ca.