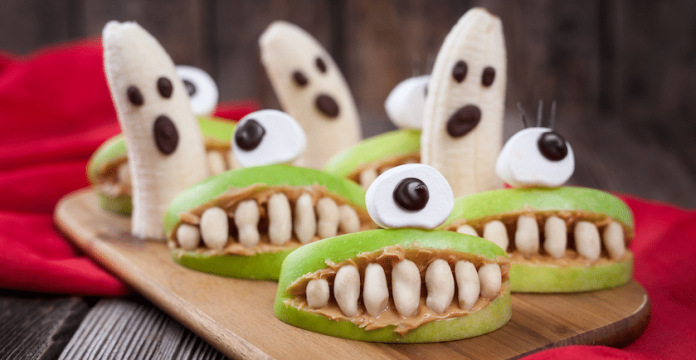 Since your trick-or-treaters might be getting their fill of Halloween candy next week, we've rounded up some kid-friendly Halloween recipes that keep things on the healthier side. The best part about these recipes? They're fun to make as a whole family!
Banana Nice Cream Ghosts 
Ingredients
1-2 bananas
1 bar organic white chocolate
mini chocolate chips
popsicle sticks
Directions
Cut bananas in half and then slice down the middle. Insert popsicle sticks and freeze for at least 10 minutes. Melt the white chocolate and dip the banana quarters until completely covered. Place two chocolate chip "eyes" on the banana, and set in the freezer on a plate or baking sheet lined with parchment paper.
Recipe adapted from SkinnyTaste.com
Monster Mouths
Ingredients
1-2 green apples
Nut or seed butter
Sunflower seeds or peanuts
Googly eyes
Directions
Cut the middles out of each apple slice to make "mouths." Cover the top and bottom of each mouth with nut or seed butter and place sunflower seed or peanut teeth. Put a drop of nut or seed butter on the top of the apple slice where you want to place googly eyes. Be creative and get silly with this fun treat!
Recipe adapted from ForkandBeans.com
Grapefruit Jack-o-lanterns
Directions
Use a serrated knife to cut the top off a grapefruit and scoop the flesh out much like a pumpkin. Have your kids draw faces on their mini jack-o-lantern with a marker, and carve with a paring knife. Fill with a simple fruit salad (apples, grapefruit, berries, oranges, etc.) and you've got a healthy Halloween snack!
Adapted from SayYes.com
For more healthy Halloween ideas read on:
Made by Me: Healthier Halloween Treat Recipes
4 Tips for a Healthier Halloween


Subscribe to our newsletter for all our healthiest tips and tricks: