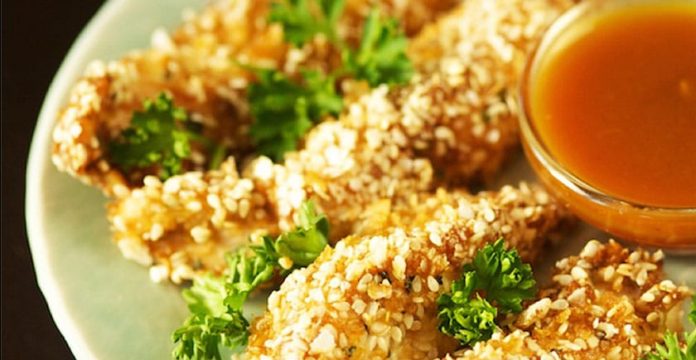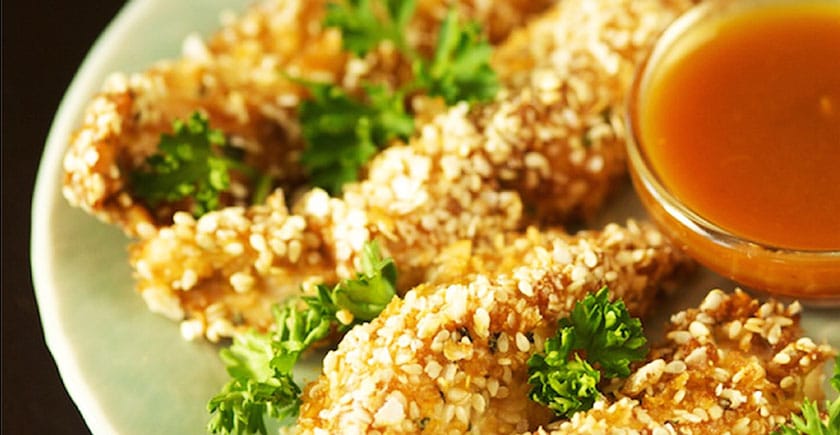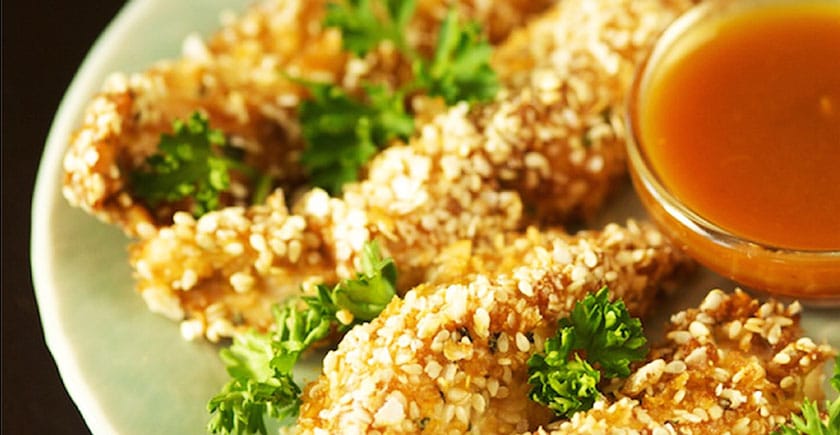 Healthy Chicken Fingers This healthy chicken fingers recipe proves you can have all the taste (and crunch!) without the unhealthy trans fats, gluten, and sugar found in standard chicken fingers. Serve with this apple dipping sauce (see recipe below) for a sweet and healthy meal or snack.
Serves 4 to 6
Ingredients1 tsp virgin coconut oil
3/4 cup finely crushed whole grain, gluten-free crackers
1 pound skinless and boneless organic chicken breast
1 tablespoon chopped fresh basil leaves
1/2 teaspoon dried oregano
1/2 teaspoon dried thyme
2 teaspoon dried parsley
2 cloves garlic, minced
2/3 cup squash or pumpkin purée
Pinch pink rock salt or gray sea salt
Directions
1. Preheat your oven to 375 F and lightly coat a baking sheet with coconut oil.
2. Place the crackers in a plastic bag and crush them with a rolling pin until they're the size of breadcrumbs. Or, put the crackers in a blender and use the ice-crush setting to finely crush them. Place your crumbs in a bowl and set them aside.
3. In a medium bowl, combine the basil, oregano, thyme, parsley, garlic and salt and mix well.
4. Cut chicken into 3-inch strips and place the chicken pieces into the squash/pumpkin purée and coat well. Transfer one piece at a time into the crumb bowl to coat them evenly and place them on the prepared baking sheet.
5. Bake for 12 minutes, then turn chicken over and bake for another 10 minutes, or until no longer pink. Serve with dipping sauce, see recipe below. Makes 4 to 6 servings.
Apple Dipping Sauce Recipe
Ingredients1/4 cup apple cider vinegar
1/4 cup apple butter (no added sugar)
1 tbsp pumpkin purée
Pinch pink rock or grey sea salt
Directions
1. Blend all the dipping sauce ingredients in a food processor.
2. Serve with the hot chicken fingers.
Reprinted with permission by Julie Daniluk RHN and Random House Canada / ©Slimming Meals That Heal 2014. Visit juliedaniluk.com for more information. Connect with Julie on Facebook at Julie Daniluk and on Twitter @juliedaniluk