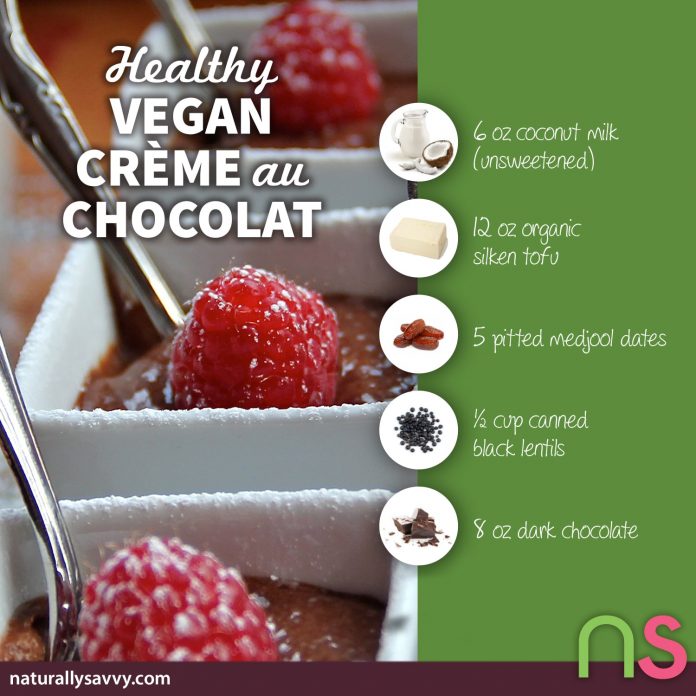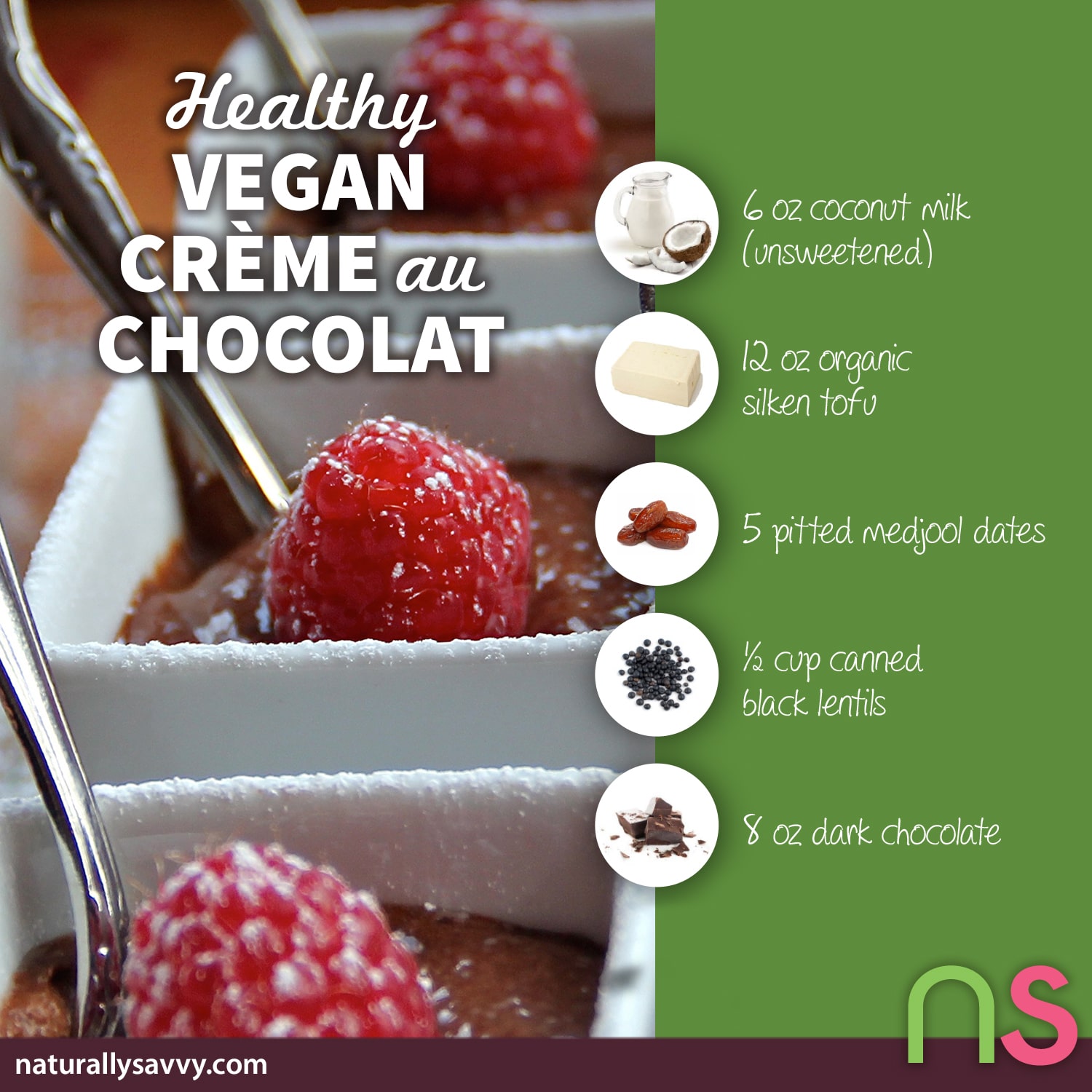 Healthy Vegan Crème au Chocolat
These remind me of French "Petits Pots de Crème au Chocolat" from
my childhood in France! Typically, these petits Pots are made with dark chocolate, heavy
cream, egg yolks and sugar. Of course I have revamped them, Cuisinicity style, while
keeping their rich creamy texture and luscious flavor. I have done away with the heavy cream, the
eggs and…even the added sugar!! The only thing I have kept from
the original recipe is the dark chocolate! I can't even believe it myself, but
you'll have to try these to know what I mean.
The ingredients I have used to recreate these little
gems are vegan and nutritionally superb: I
use organic silken soft tofu and coconut milk as my base, and even add puréed
black lentils so that the batter is filled with plant-based protein. Dried dates (I love medjool dates because they
are so moist, and they blend in beautifully in the batter) and bittersweet chocolate are the only
source of sugar-that's it! You can bake them in porcelain ramekins
(2.5 oz) for an elegant party, or in individual
disposable baking cups-so festive on a buffet table!
You can also
leave it unbaked, chilled, and use this recipe as a rich chocolate ganache, as I do
in my Vegan Génoise with Chocolate Ganache.
This recipe ranks as one as one of my personal BEST-The perfect marriage of Delicious and
Nutritious-enjoy!
Serves 10
Ingredients
6 oz coconut milk (unsweetened)
5 pitted medjool dates, chopped + 2
tablespoons hot water
12 oz organic silken tofu (soft), not drained
1/2 cup canned black lentils, rinsed
and drained (or 1/2 cup cooked lentils from scratch)
8 oz dark chocolate (60-70% cocoa)
Directions
1. Preheat the oven 350 F.
2. Place the chopped dates in a little container with 2
tablespoons hot water to soften and set aside for 5 minutes.
3. Break up the chocolate into pieces and place in a double boiler, or in a small bowl in a steamer basket to gently melt. Stir until melted.
4. Place all the ingredients in a blender and process for
1-2 minutes until smooth.
5. Scrape the sides and blend again for another minute.
6. Pour the custard in individual little baking
cups or small porcelain ramekins (2.5 oz).
7. Place the filled cups on top of a cookie sheet and
bake in preheated oven for 10-12 minutes.
8. Let cool and serve warm or at room temperature.
This recipe originally appeared on Cuisinicity.com.