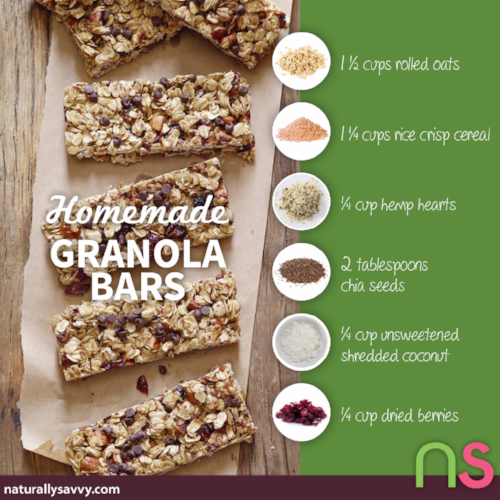 The great thing about homemade granola bars – besides knowing exactly what's in them – is how customizable they are. These can be made nut or dairy-free, crunchy or chewy, packed with add-ins or plain and simple. The only thing that's mandatory is the brown rice syrup. I don't recommend trying to make them with less, or you'll end up with tasty granola clusters rather than bars (I know this from experience). I like to keep them individually wrapped in the fridge for a quick snack, but they make great gifts with a bit of pretty packaging (I sent my Thanksgiving guests home with them).
Ingredients
1 ½ cups rolled oats
1 ¼ cups rice crisp cereal
¼ cup hemp hearts
2 tablespoons chia seeds
¼ cup unsweetened shredded coconut
½ cup seeds of your choice (I use pepita and sunflower, but you can use sesame or flax as well)
¼ cup dried berries (I like cranberries or mixed berries)
¼ cup almond slivers or walnut or pecan pieces (optional)
½ teaspoon ground cinnamon
¼ teaspoon sea salt
½ cup and 2 tablespoons brown rice syrup
¼ cup natural nut butter (or sunflower if you want a nut-free version)
1 teaspoon organic vanilla extract
¼ cup mini chocolate chips
2 tablespoons raw cacao nibs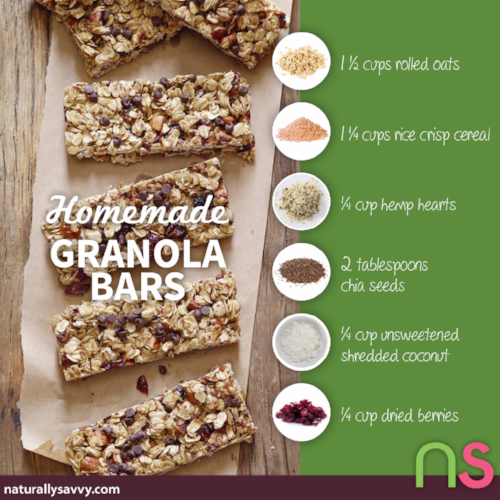 Instructions
In a large mixing bowl, stir in the oats, cereal, coconut, hemp hearts, seeds, nuts, dried berries, cinnamon, and salt. In a small pot, heat the brown rice syrup and nut butter over medium heat until smooth. Add the nut butter mixture and vanilla extract to the mixing bowl and stir well, ensuring every bit of the dry mixture is coated. This will be tough to stir, but it's worth it! Add in chocolate chips and cacao nips and give one final stir. Pour into a square pan lined with parchment paper and spread out evenly. Use a rolling pin or glass jar to flatten the bars and push the mixture into the corners. Tip: I use a mason jar but wet it every 10 seconds to stop the mixture from sticking to it. Set in the freezer for 10 minutes. Cut into 12 bars and store in the fridge or freezer.
Inspired by Oh She Glows
Image by (Mariam)