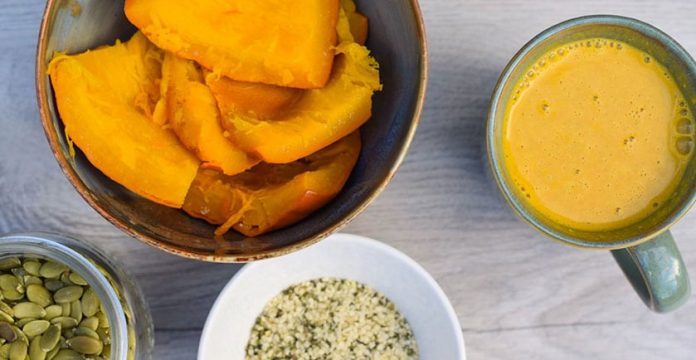 This warming pumpkin smoothie recipe hits the spot on a cool fall or winter morning. You will be surprised at how much of a treat this one is, and it is so good for you too. It is definitely one of our faves.
Ingredients
1/4 to 1/3 cup roasted pumpkin* (fresh or canned)
2 tablespoons hemp seeds
1 tablespoon raw pumpkin seeds, optional
1-2 tablespoon goji berries
1 teaspoon pumpkin pie spice (or use 1/2 tsp cinnamon + 1/4 tsp ginger + 1/8 tsp allspice + 1/8 tsp cloves)
Pinch of vanilla powder or a dash of vanilla extract
2 cups hot, but not boiling water
Sweeten to taste with 2-3 dates, 1/2 tbsp raw honey or a few drops of liquid vanilla stevia
Directions
Blend together in a high-speed blender and enjoy immediately.
Note: Be careful when blending warm liquids as the heat can push off the top of your blender and explode into a nasty mess.
*To make your own pumpkin purée:
Simply cut a sugar pumpkin in half and place in a roasting pan with a bit of water, cut side down. Bake at 350F for 40 minutes or until soft. Cool, peel and purée. Use right away or freeze.
Image via: Cathy Russell