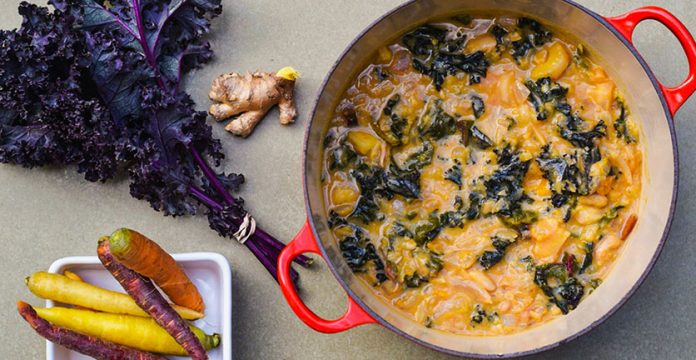 This autumn kale and white bean chowder recipe is loaded with nutrition. It's super simple to make and hits the spot on a dark and dreary fall day. I prefer to eat beans cooked from scratch, and not from the can. They just taste so much better and make me feel better too. If you don't like making them from scratch, you can simply use canned beans, but be sure to buy the organic kind, free of BPA. Cannellini beans and kale pair so nicely together and the added ginger adds some extra warmth.
Serves 4 to 6
Ingredients3 cups vegetable stock
2 cups water or more, to desired thickness
2 tablespoons Ellyndale® Organics Extra Virgin Olive Oil or Coconut Oil
1 large white onion, diced small
3 garlic cloves, minced
1 tablespoon minced or grated ginger
3 large carrots or parsnips, sliced into half moon shapes
3/4 cup squash pureé or chunks, optional (I had some leftover squash and threw it in)
1 medium-sized head of kale, de-stemmed and chopped into bite-sized pieces
3 cups cannellini beans (approximately 2 -14 oz cans, rinsed and drained)
1 tablespoon San-J Low-Sodium Tamari, optional
1 tablespoon apple cider vinegar
1/2 to 1 teaspoon salt, more or less to taste
1/4 teaspoon freshly ground pepper
Directions In a medium-sized heavy pot, sauté chopped onion in coconut oil, until softened, approximately seven minutes. Add the minced garlic and ginger and sauté for a few more minutes. Add a bit of water if things start to stick. Add the carrots or parsnips and stir to coat in the spices. Next, add the vegetable broth, the squash (if using), and half of the beans. Pureé the rest of the beans in a blender or food processor with a bit of water, just enough water to aid in blending. Add the puréed beans to the pot with the rest of the ingredients and simmer on medium-low heat for 15 to 20 minutes until the carrots or parsnips are tender. Add more water to the pot to thin out to your desired consistency. I preferred it a bit thicker so 2 cups worked well for me. Add the chopped kale and heat through until just wilted. Add the tamari, apple cider vinegar and season to taste with salt and pepper.
Image via Cathy Russell