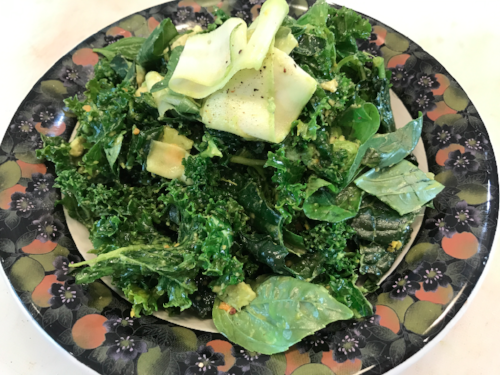 This delicious kale salad has a lot of "medicinal" ingredients including ginger and turmeric. Ginger is great for soothing your stomach and turmeric is an anti-inflammatory powerhouse. Not only that, this salad has greens, protein, along with healthy fats.  Mix it up for a nourishing boost to any meal.
Ingredients
Salad
1 bunch of kale
1-2 ripe avocados
1 zucchini
1 bunch of basil
2-inch ginger root
1-inch turmeric root
Dressing
1 clove of garlic minced
1/4 cup EFA mixed oils (Sesame, Flax, Borage, or Olive) [Ellyndale carries sesame oil and Barlean's makes flax oil.]
2 tbsp lemon juice
Pink salt to taste (1 tsp)
3 tsp of Green Mix Powder [Here is one option for a greens powder, also from Barlean's.]
Directions
1. Mix dressing ingredients in a small bowl with a fork until smooth.
2. Place finely chopped kale in a large bowl, pour on dressing and "massage" kale. The massaging softens the kale.
3. De-pit avocados and slice into cubes.
4. Chop and shred the zucchini, turmeric, and ginger root.
5. Mix all ingredients in a bowl and serve.
For more delcious and healhty recipes, sign up for our newsletter:
DISCLAIMER: This article contains affiliate links, which means that if you click on one of the product links, Naturally Savvy will receive a small commission so we can keep pumping out amazing articles like this one. Thank you so much for your support!