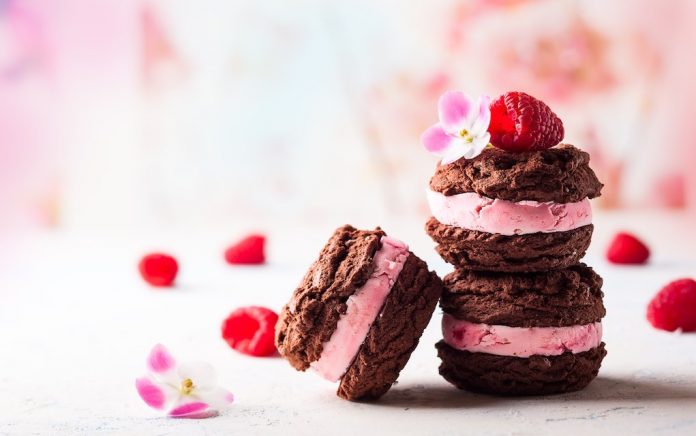 Valentine's Day is the perfect time to give your family and friends some keto dessert love!
Try these and let us know in the comments below what you think.
Ingredients

½ Cup Coconut Flour
½ Cup Raw cacao powder
6 Tbsp Butter, solid
6 Tbsp Coconut butter
¾ Cup Monk fruit/erythritol fruit sweetener
2 Eggs
1 tsp Vanilla
1 tsp Aluminum-free Baking powder
Ingredients for Berry cookie filling
½ Cup Monk/erythritol fruit sweetener
¾ Cup Cream cheese
2 Tbsp Coconut oil, melted
1 Tbsp Lemon juice, freshly squeezed
1-2 Tbsp Frozen raspberries* see note
*Note: take the frozen raspberries and set aside in a small bowl to thaw. As they thaw they will release some of their natural juices. You will use the thawed berries along with any juice as part of your recipe.
Direction for Cookies
Preheat oven to 350F. Line 2 cookie trays with baking paper.
Add all the cookie ingredients to a food processor and process on medium-high speed until all ingredients come together and make a soft dough (approx. 20 – 30 seconds). Scrape down the sides if needed as you go.
Take 1 – 2 tablespoons of cookie dough and roll into a ball in the palm of your hands.
Place on lined cookie tray and lightly press down.
Continue this process until all cookie dough is used.
Bake in the oven for 15 minutes.
Remove from oven and allow to cool on tray.
Meanwhile, make the berry filling. Clean and dry your food processor.
Add in all berry filling ingredients (including the thawed raspberries and juice) in your food processor. Blend on medium speed for 10 seconds, or until well combined and smooth.
Scrape out into a bowl and place in the fridge to chill and set.
Directions for assembly
Once cookies have cooled and the filling is chilled and slightly set (it won't be hard, instead of nice and creamy and smooth), scoop on a generous amount of filling on to one cookie, placing another cookie on top to make a cookie sandwich.
Smooth the sides of any excess filling that may escape.
Serve immediately.
Makes approx. 12
DISCLAIMER: This article contains affiliate links, which means that if you click on one of the product links, Naturally Savvy will receive a small commission so we can keep pumping out amazing articles like this one. Thank you so much for your support!