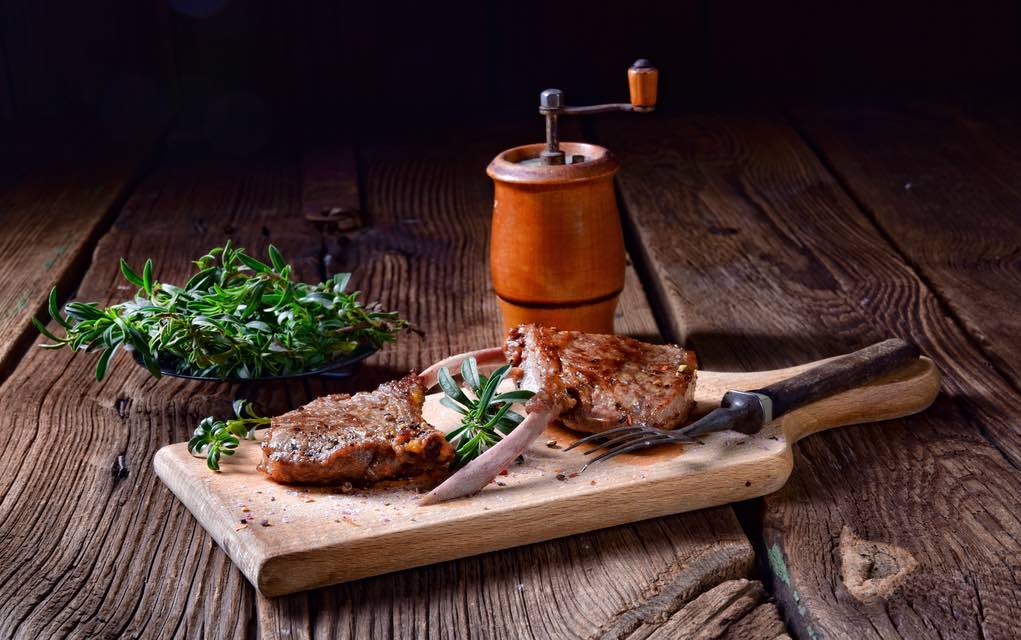 These juicy lamb chops marinated with a zesty, herb dijon dressing and then grilled to perfection will make any mouth water!
If you're looking for a keto–friendly recipe that will be perfect for when you're entertaining, look no further.These chops are what you're after! Super easy to make and delivering a truck load of simple, fresh flavors that will become a grilling favorite. Serve with either chargrilled vegetables or a simple side salad.
 Serves: 4 – 6
 Ingredients you will need
12        sml/med                      Lamb chops, trimmed of fat
3          Tbsp                            Orange zest, minced
2          Tbsp                            Thyme leaves, fresh
2          Tbsp                            Rosemary leaves, minced
1/3       Cup                             Dijon mustard, (sugar free/keto friendly)
¼         Cup                             White wine vinegar
1          Tbsp                            Olive oil
Salt and pepper to taste
To serve
1          Lg                                Eggplant, cut in to ½ inch thick rounds
2          Lg                                Zucchini, sliced length ways
1          Tbsp                            Olive oil
Salt and pepper, to taste
Instructions
In small bowl, mash the orange zest, thyme and rosemary into a paste with back of a spoon then stir in the mustard, vinegar and olive oil. Allow to stand at room temperature 1 hour for flavors to blend.
Preheat a grill to medium – high heat.
Lightly brush one side of lamb chops with approximately 1/4 of the mustard mixture, dividing it evenly.
When grill is hot, lay chops on rack, mustard side down. Cover and grill for 2 minutes.
Brush chops with 1/4 of mustard mixture, turn, cover and grill another 2 minutes.
Brush and turn chops twice more, grill until mustard mixture is used up, about 10 minutes for rare, or until done to your liking.
At the same time the chops are cooking, chargrill the vegetables lightly brushing each side with olive oil. Cook until preferred doneness.
Season both the chops and vegetables with salt and pepper and serve immediately.
For more healthy and keto recipes, be sure to sign up for our newsletter:
DISCLAIMER: This recipe contains affiliate links, which means that if you click on one of the ingredient links, Naturally Savvy will receive a small commission so we can keep pumping out amazing recipes like this one. Thank you so much for your support!