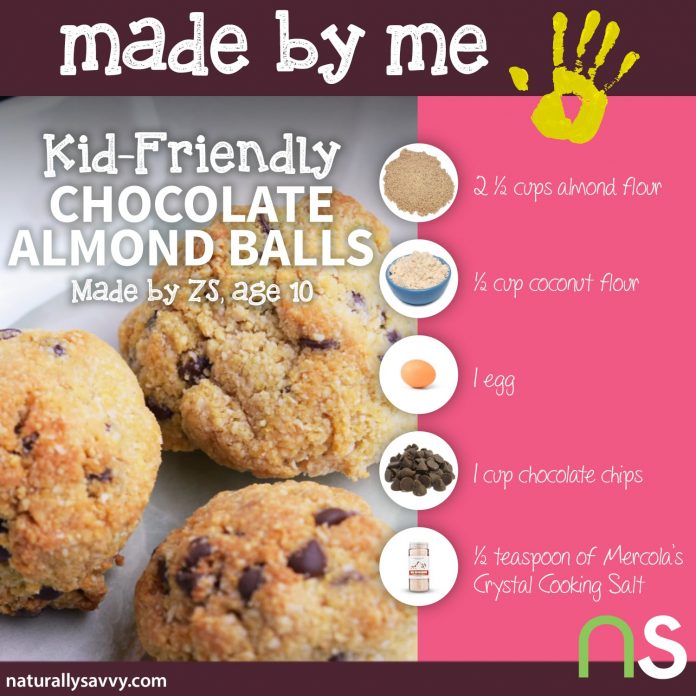 Made by Me: Chocolate Almond Balls Recipe The recipe for these yummy cookies was submitted by ZS, age 10. ZS says, "I love making these cookies into balls and eating them while warm. I try to hide a few because these are my Dad's favorite cookies and he eats them all."
SUBMIT YOUR MADE BY ME RECIPE HERE
Ingredients2 1/2 cups almond flour
1/2 cup coconut flour
1 egg
7 tablespoons Barlean's Virgin Organic coconut oil, softened
6 tablespoons 100% maple syrup
1 cup good quality chocolate chips
1/2 teaspoon Mercola's Himalayan Crystal Cooking Salt
Directions
Preheat oven to 350 F. Place all ingredients except for the egg in a bowl and mix them together with a spoon. Whisk the egg in a separate cup to ensure it is fully mixed then add to mixture.
If you're in the winter months you'll need to soften your coconut oil ahead of time, adding it to the mix. To do this simply place in a small jar with a lid and place in hot water, alternatively you can put it in a ramekin while you're preheating your oven to melt it. DO NOT USE A MICROWAVE.
Scoop cookies into the palm of your hand to make them into balls. This also helps press the oils into the flour and keeps them from crumbling. Place on a buttered cookie sheet and bake in oven for 10 minutes.
SUBMIT YOUR MADE BY ME RECIPE HERE