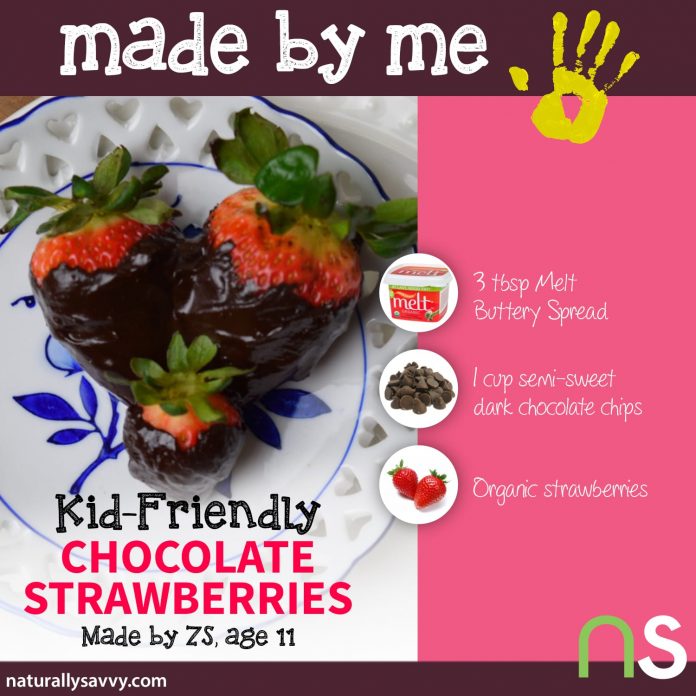 Made by Me: Kid-Friendly Chocolate-Dipped Strawberries Recipe
This simple, 3-ingredient recipe was made ZS, age 11. ZS gave us a quote with a mouth full of a chocolate-dipped strawberry: "This is my favorite special treat and I like making them and I really love eating them."
SUBMIT YOUR MADE BY ME RECIPE HERE
Ingredients
10 large organic whole strawberries, stem-on
1 cup semi-sweet, good-quality chocolate chips
3 tablespoons Melt Buttery Spread
Directions
Gently rinse strawberries and then let them dry on a fresh towel. Line a tray with waxed paper. Place chocolate and Melt Buttery Spread in a saucepan on low heat. Stir chocolate and Melt until melted and smooth.
Dip strawberries into the chocolate one at a time, leaving upper third of each berry uncoated. If desired, dip again. Place dipped berries on lined tray.
Chill in refrigerator to let the chocolate set, at least 5 minutes as this will make the chocolate harden. Keep the berries chilled until ready to serve. Remove from wax paper and serve on serving tray.
Recipe and photo submitted by ZS, age 11.
SUBMIT YOUR MADE BY ME RECIPE HERE