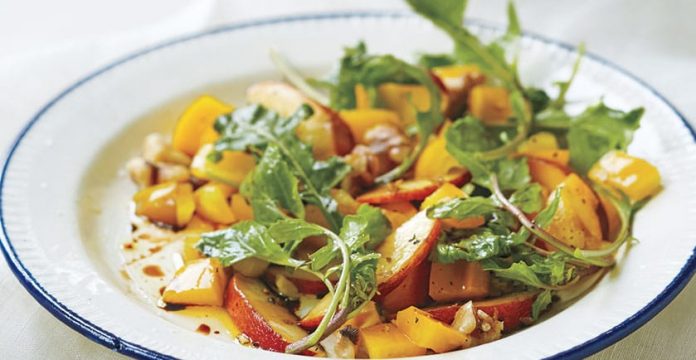 Here's a dish that provides a big payoff for very little effort. It takes about five minutes to throw this salad together, and the combination of peppers, peaches, and arugula is simply beautiful. Serve it in a wide bowl to show off its good looks.
Serves 6 to 8
10 cups arugula
5 medium ripe peaches, pitted and diced
2 yellow or orange bell peppers, diced
⅓ cup finely chopped raw walnuts
2 tablespoons extra-virgin olive oil
2 tablespoons balsamic vinegar
1 tablespoon freshly squeezed lemon juice
¼ teaspoon freshly grated lemon zest
¼ teaspoon of sea salt
¼ teaspoon freshly ground black pepper
In a large bowl, combine the arugula, peaches, bell peppers, and walnuts. In a small bowl, whisk together the oil, vinegar, lemon juice, lemon zest, salt, and pepper. Drizzle the dressing over the arugula mixture, toss, and serve.
Read about the benefits of dark leafy greens
Recipe excerpted from Eating Clean, © 2016 by Amie Valpone. Reproduced by permission of Houghton Mifflin Harcourt. All rights reserved.