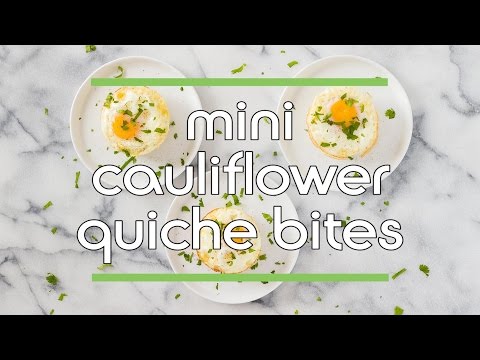 Mini Cauliflower Quiche Bites
Serves 12
Ingredients
1 medium or large head of cauliflower (3 cups chopped)
1 cup shredded (non-dairy) cheese
1 egg
1 clove garlic, minced
1 tsp. salt
pepper to taste
Directions
1. Preheat oven to 350. Lightly grease a 12-cup muffin tin and set aside.
2. Wash cauliflower and cut into florets. Grate florets and then steam with about 2 Tbsp water in a pan for a couple of minutes or until slightly soft. 3. Place 3 cups in a cheesecloth or tea towel and wring out excess moisture until as dry as possible. In a mixing bowl, combine cauliflower, cheese, egg, garlic, salt, and pepper.
4. Divide evenly in a greased muffin tin or silicone muffin cups. Add one egg to each cup and bake for another 10-15 minutes depending on how hard or soft you like your yolks. Top with more pepper to taste.
Optional: Use mozzarella or non-dairy cheese of your choice as a topping.