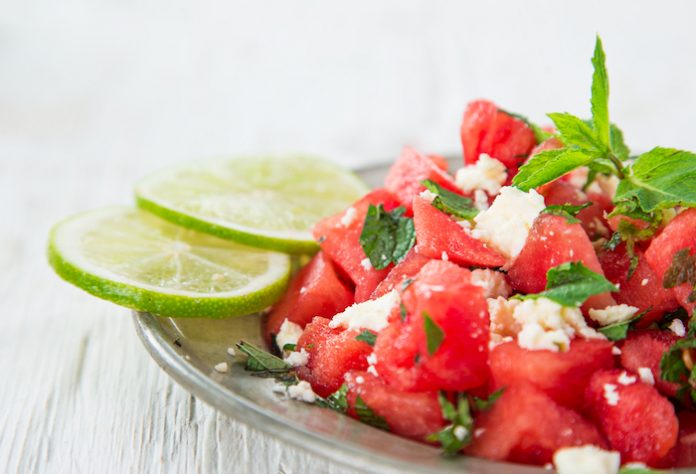 Salty, hydrating, and sweet. This is a perfect summer salad to serve next time you fire up the grill or as lunch on its own.
Ingredients
1/2 cup fresh mint leaves, chopped
8 cups watermelon, seeded & diced, very cold
2 tablespoons fresh lime juice
3 tablespoons extra virgin olive oil
1/2-1 cup reduced-fat feta cheese, crumbled
black pepper (optional)
cayenne pepper (optional)
ground habanero chile pepper, for those that like a real kick (optional)
Directions
Dice a watermelon into small pieces. Chill the watermelon until cold (I also keep it cold when serving by placing a bowl filled with ice within the bowl containing the melon). Just before serving, in a small bowl, whisk the mint leaves, lime juice, and olive oil. Pour mixture over melon, tossing to coat.
Sprinkle crumbled feat cheese on top of servings (some people don't care for Feta, use your favorite).
More recipes to try:
Chilled Cucumber and Avocado Soup Recipe
Sign up for our newsletter:
DISCLAIMER: This article contains affiliate links, which means that if you click on one of the product links, Naturally Savvy will receive a small commission so we can keep pumping out amazing articles like this one. Thank you so much for your support!