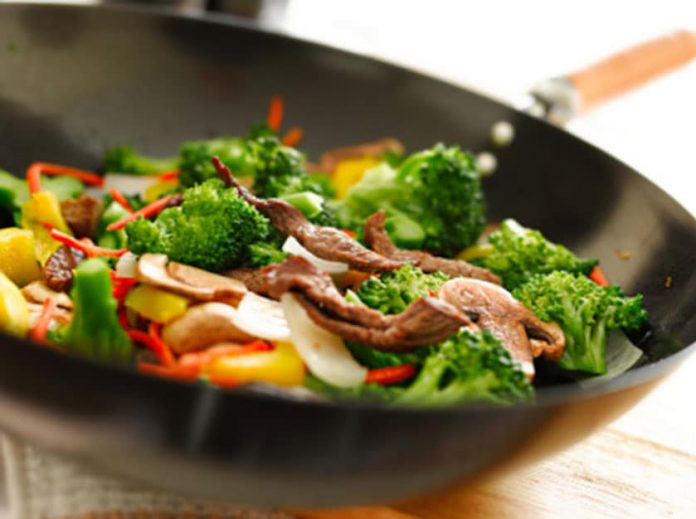 This stir fry's sauce has a tea base. Using Bigelow Tea's Orange and Spice Herbal Tea, it is a healthier version on a Chinese restaurant favorite. Using gluten-free tamari and some chili pepper for a bit of kick, you'll be able to get a nutrient dense dinner on the table in no time.
Ingredients
½ cup of hot water
4 Bigelow® Orange & Spice Herbal Tea Bags
1 tablespoon rice vinegar
1 tablespoon plus 2 tablespoons organic cooking oil (olive or avocado)
1 tablespoon minced fresh red chili pepper (medium)
1 teaspoon fresh ginger, minced
1 teaspoon fresh garlic, minced
Pinch of sugar
1 lb grass-fed steak, cut crosswise into ? strips
1 bunch Chinese broccoli (broccolini) approx. ½ lb – cut into 1" pieces
10 scallions, chopped into 1" pieces
Salt and pepper
4 cups cooked brown rice
Instructions
1. Place the tea bags in the hot water and allow to steep for 5-7 minutes. Be sure to thoroughly squeeze out tea bags before removing them. Set aside and allow tea to cool slightly.
2. In a small bowl or measuring cup, combine the tea, vinegar, 1 tablespoon of cooking oil, chili pepper, ginger, garlic and sugar. Whisk to combine. 3. Place the steak strips and tea mixture into a large ziplock bag and marinate in the refrigerator for at least one hour or overnight.
4. In a large skillet or wok, heat remaining 2 tablespoons of cooking oil over medium-high heat. Add the Chinese broccoli and stir fry for one to two minutes, until just tender.
5. Add the steak (reserve the marinade), and continue to cook for another two minutes.
6. Add scallions and reserved marinade to the pan and cook another minute, or until it is almost completely absorbed.
7. Season with salt and pepper and serve over cooked brown rice.
This post originally appeared on bigelowtea.com.