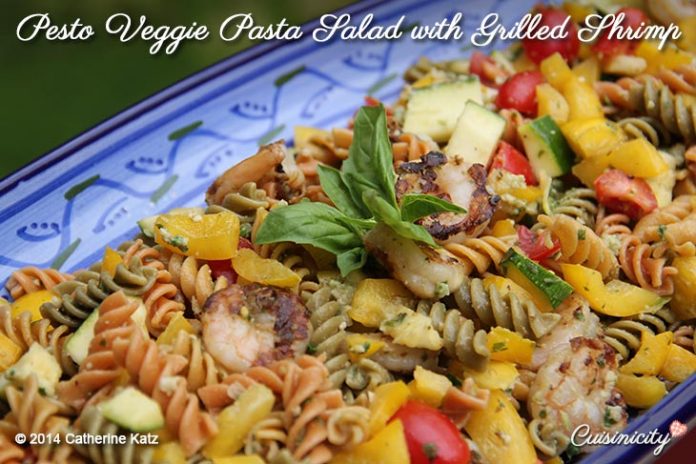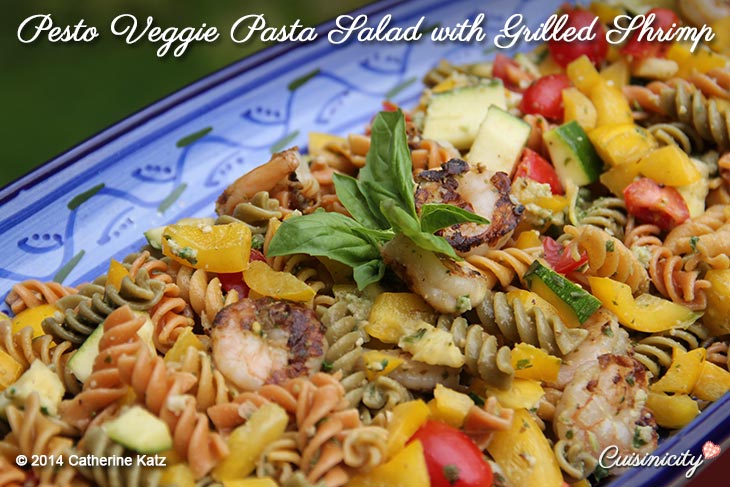 This vibrant, vegetable-filled dish is a great way to enjoy (whole wheat) pasta with a twist. The basil walnut pesto and grilled shrimp offer lighter flavors and more nutrition than a typical pasta dinner-the walnuts add omega-3 fatty acids and other surprising health benefits. Make this part of your dinner rotation and you and your family won't be disappointed!
Ingredients
Basil Walnut Pesto:
2 cups fresh basil leaves, loosely packed, rinsed, and patted dry
½ cup walnut halves
Juice of 1 lemon ( 2 Tbsp )
1 garlic clove
¼ cup extra virgin olive oil
For the Salad:
1 Tbsp olive oil
24 frozen raw medium easy-peel shrimp
½ tsp coarse salt
1 package (12 oz) whole wheat or brown rice spiral pasta
1 cup cherry tomatoes, rinsed and quartered
1 large raw zucchini, diced
1 large yellow bell pepper, diced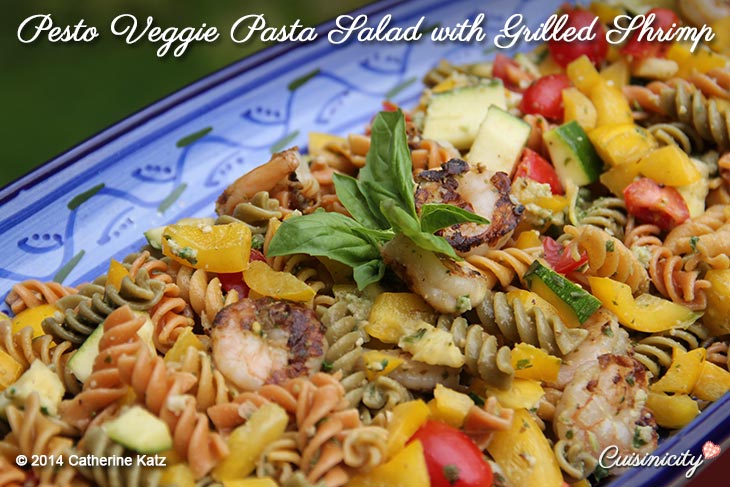 Instructions In a food processor or blender, combine the basil, walnuts, lemon juice, garlic, salt, and pepper. Process for a few seconds, then, with motor still running, slowly pour ¼ cup olive oil through the feed tube and process until smooth.
Set aside.
Quickly defrost the shrimp by rinsing in cold water and peel; pat dry with paper towel and set aside.
Cook the pasta in boiling water according to package directions (it should be "al dente"). Drain and rinse under cold water and drain again. Set aside to cool down.
Meanwhile place 1 Tbsp olive oil on a cast iron grill pan over high heat and grill the shrimp for 2-3 minutes on each side. Do not overcook. Set aside.
Place all the diced vegetables in a big salad bowl, add the cooled pasta, grilled shrimp and basil pesto.
Toss gently to coat.
This recipe originally appeared on Cuisinicity.com.