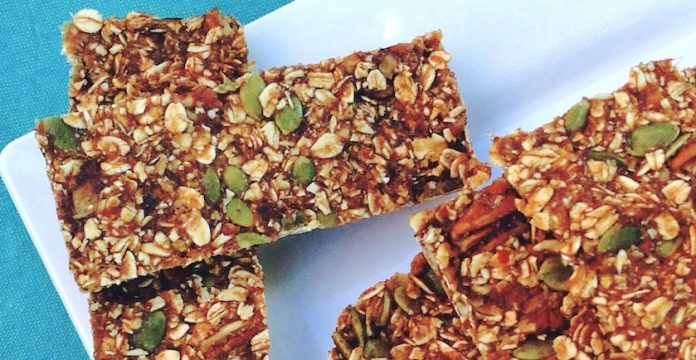 No-bake granola bars are the perfect make-ahead, easy snack recipe that can be kept in the fridge for snack any time of the week. They take 15 minutes to make and are the perfect afternoon pick-me-up to keep energy levels high and prevent afternoon sugar cravings.
Ingredients:
½ cup pumpkin seeds
2 cups rolled oats
¼ cup quinoa flakes
¼ cup pecans
1 tsp cinnamon
½ tsp pumpkin pie spice
1 cup medjool dates (about 12)
1/3 cup maple syrup
2 tbsp molasses
Read more about healthy snacks that won't expand your waistline
Directions:
Preheat oven to 350 F. Spread your pumpkin seeds and oats on a large baking sheet and toast for 5 minutes (or use pre-roasted pumpkin seeds for a truly no-bake recipe). Be careful: they can burn quickly.
In a large mixing bowl combine quinoa flakes, pecans, cinnamon and pumpkin pie spice. Add toasted pumpkin seeds and oats to the bowl.
In a food processor pulse the dates until they form a stiff paste and come together in a dough ball. Add the dates to the mixing bowl along with the maple syrup and molasses. Mix everything together with your hand – trust me, it's the only way. Once everything is combined press the granola bar dough into a parchment lined 8×9 pan. Give it a really good press dough with the back of your hand or the bottom of a cup.
Place in the freezer for 10 minutes to set, then cut and store in an air tight container in the fridge. Can last up to 2 weeks in the fridge.
Recipe & image courtesy of NaturesPeach.com.