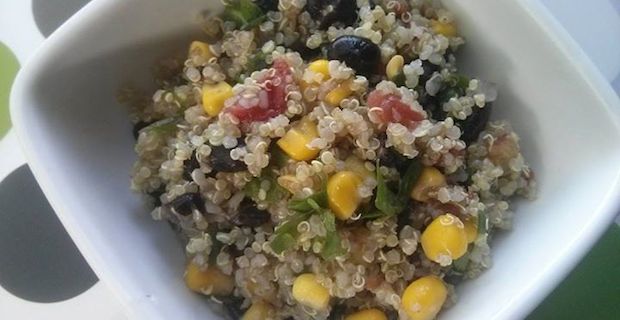 This quinoa salad is a great option for summer barbecues. With ample protein, you can even eat this as a standalone meal!
Ingredients
1 cup of dry quinoa (about 3 cups cooked)
1 can organic black beans, drained
1 can organic (non-GMO) corn
1 can tomatoes & green chilies
1 bunch of spinach, chopped
1 red onion, chopped fine
1 handful of cilantro, chopped
1 lime
1 avocado, diced
salt & pepper, to taste
Read more about quinoa recipes you will love
Directions
Cook quinoa according to package instructions. Combine remaining ingredients except avocado in a bowl and mix with quinoa. Chill and serve with diced avocado.
Sign up for our newsletter:
DISCLAIMER: This article contains affiliate links, which means that if you click on one of the product links, Naturally Savvy will receive a small commission so we can keep pumping out amazing articles like this one. Thank you so much for your support!