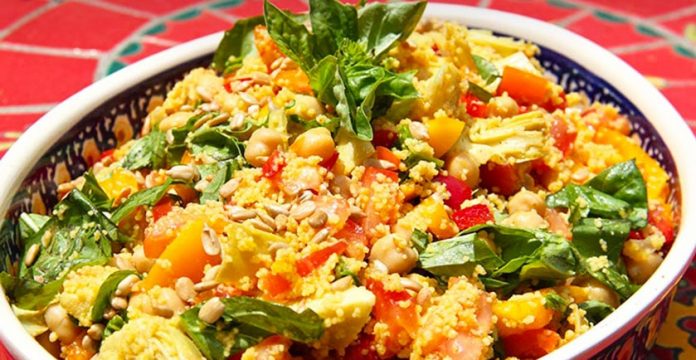 This is a wonderful Mediterranean whole wheat couscous salad filled with artichoke hearts, bell peppers, tomatoes, chickpeas, fresh basil, and topped with roasted sunflower seeds! It is perfect because it is so refreshingly delicious but also because it requires no cooking at all! The couscous is raw and just absorbs all the wonderful flavors of the citrus dressing so that it is perfectly fluffy and not clumpy. This vegan salad makes for a complete dinner!
Ingredients
Dressing: Juice of 1 large orange (about ½ cup)
Juice of 1 small lemon (about ¼ cup)
1/2 cup extra virgin olive oil
1/2 teaspoon turmeric
1/4 teaspoon coarse salt
Salad ingredients:
1 cup whole wheat couscous, dry
2 medium tomatoes, rinsed, diced
3 bell peppers (yellow, red and orange), rinsed finely diced
1 large jar (12 oz) fresh packed marinated artichoke hearts, drained
1 (15.5 oz) can chickpeas, rinsed and drained
1/2 cup fresh basil, rinsed and chopped
Topping:1 tablespoon roasted sunflower seeds (unsalted)
Directions
Place all the dressing ingredients in a small bowl and whisk to blend well. Place the dry couscous in a large bowl, pour the dressing over it and stir once; set it aside, uncovered, and do not stir again for 10 minutes. Top with all the remaining ingredients and gently stir together (after the 10 minutes are up!). Sprinkle with the sunflower seeds and serve either at room temperature or cold.
Image, video and recipe via Catherine Katz of Cuisinicity.com