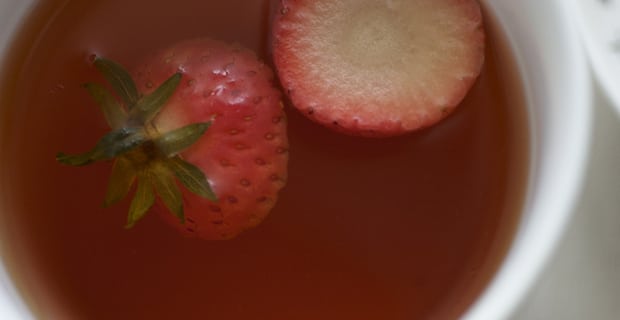 There's nothing quite like a cool glass of iced tea on a hot summer day, however most commercial varieties contain Scary Seven ingredients and huge amounts of sugar. But chill out! This recipe uses xylitol instead of sugar to sweeten the tea, which reduces caloric intake and interestingly provides dental health benefits, and real strawberries instead of artificial flavors for a lovely summery taste. Black tea naturally contains caffeine which in small doses can increase alertness, but if you are sensitive to caffeine, try decaffeinated tea.
Ingredients:
2 cups whole frozen strawberries
4 cups Bigelow English Tea Time tea, cooled
¼ – ½ cup NOW Real Food Xylitol (depending on desired sweetness)
¼ cup fresh squeezed lemon juice
Read more about the health benefits of tea
Directions:
Take 4-6 strawberries out of the bag and set aside. Blend remaining strawberries in a blender or food processor until smooth. Strain the pureed berries and discard seeds. Mix together pureed strawberries, tea, lemon juice, and desired amount of xylitol. Chill until ready to serve. Serve with ice and reserved berries as a garnish.
Image: Hisako TANAKA